DIY Halloween Decorations – If you are looking for ideas to decorate your house in Halloween, then you are going to LOVE these DIY Halloween decorations. Keep reading for the most scary, fun, and easy Halloween Decor this year.
Decorating Halloween theme is always an interesting and inviting activity. I've been wondering new ideas for my house this October. I am getting tired to use usual formula: craving scary pumpkins and other common Halloween decorations. To do so, I surfed the internet to find the best ideas for the Halloween yet still easy to make.
Read also: DIY Superhero Costume
Scary DIY Halloween Decorations
When we are talking about Halloween stuff, it could be highly varied. Yet one thing remains: the scary element. Every year, we celebrate Halloween with horror movies, scary costumes, trick or treat, and indeed, scary decorations. Hence, the bold ideas here is making the decorations look scary. You can use creepy witch, ghost, and skull dolls, dry twigs, craved pumpkins, straw pedestal, and so on.
Read Also: Christmas Card Ideas 
Haunted House
Create your own haunted house using this simple idea. It is not creepy during the day but it will surely is at night!
Faces Tree
I am not recommend this type of decoration if you or your house mate are easily scared.
DIY Outdoor Halloween Decoration
Outdoor decoration usually takes place at the front side of a house. However some people might want to decorate their backyard to make it more private. For example, there are lots of options such as veranda, front yard, patio, pool side, and decks. Just make sure the stuff is weather proof and placed correctly.
Impaled Pumpkins
This string of pumpkin heads are good for indoor, veranda, or porch.
Witch Crater
Halloween won't be complete without witches. Here I present spooky witches for outdoor.
Cheap Halloween Decoration Ideas
Who says getting ready for Halloween must be expensive? With creative ideas and some effort you can have on a budget Halloween decoration. Options are unlimited: use recycled waste, cheap printable, buy second stuff, and so on.
Halloween Mason Jar
Mason Jar can be found easily with various size and price. Most of the time, every house already have one which make it even better. You might only need to paint the jar, use dark duct tape for ornament, and small light. You can use it to decorate our living room or bedroom
Death Plate
Special day needs special dish to serve. Sweets, biscuits, and candies can be stored inside the jar along with the skull decoration.
Easy DIY Halloween Decorations
Halloween is around yet you still lack of ideas? then you might want to have simple and easy decoration that you can effortlessly create by yourself. Check out these Easy Halloween Decoration Ideas that suit you best.
Bat-loween
If you are a hardcore fan of Batman, then it is a good news for you.
Simple Front Door Halloween Wreath
Door wreath is great to bring Halloween vibes in the house. It can be used for outside or inside door of the house.
DIY Halloween Party Decorations
Halloween without party is the most horrible and bland celebration ever. So, you can simply attend a party or if you are the host, then these Halloween party decoration ideas may be helpful.
Halloween Food Buffet
If you are holding the party then you must provide the meals for the guests. Then, you you should decorate your food buffet to get ready for Halloween day.
Halloween Photo Booth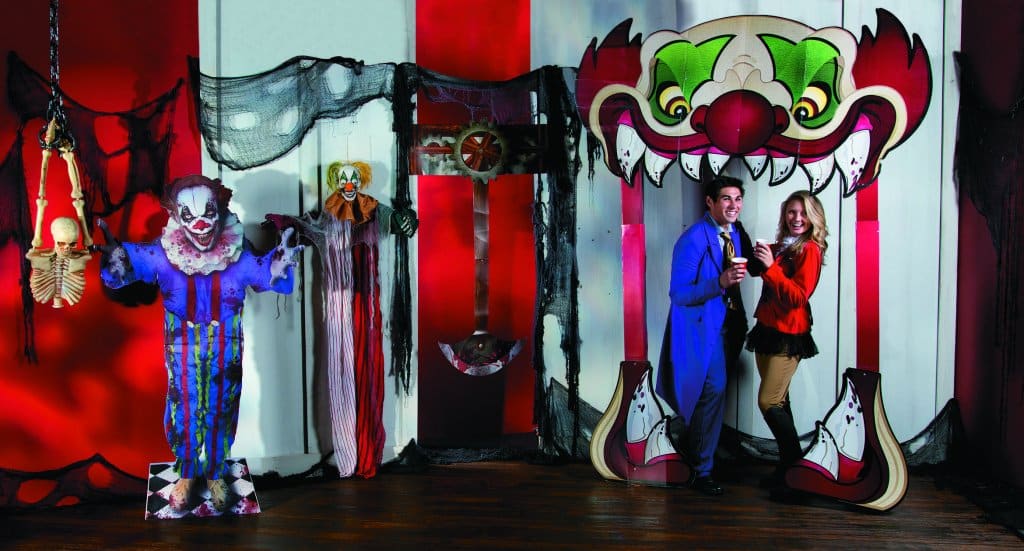 A party won't be enough without a photo booth. The guest can take selfie or wefie to remember the moment. It is also great for social media fillers.
Read also: Photo Booth Ideas
Conclusion
Halloween is coming and you better be prepared for it. Halloween decoration doesn't have to be a complex and expensive stuff if you can manage it well. Happy Halloween for all.