Driveway Paint Ideas – When transforming the look of your exterior, it is normal to forget the driveway. However, giving the driveway a fresh look completes the aesthetics of the entire exterior. An old concrete driveway is dull, especially on rainy days. So, adding a fresh coat of paint is a good idea. However, when choosing the paint, it is vital to pick a high-quality one to make it durable and improve the value and aesthetics of your property. This article shares the benefits of painting the driveway and why you should use high-quality paint. You can refer to these points to understand why painting your driveway using high-quality paint is a good idea.
Why Paint the Driveway?
There are numerous benefits you enjoy when you paint your driveway. Among them are protection against harsh weather conditions and an improved look. Let us dive into these benefits.
Protection
One major reason you must paint your driveway is to protect it from harsh weather conditions. Remember, this part of the exterior serves you in all seasons, which means it must endure seasonal changes. Painting your driveway extends its life by ensuring the material is not affected by weather changes. Choosing the best driveway paint will also prevent cracks, chips, and damages that shorten the driveway's life. This way, you can save on frequent repairs.
Improving Visual Appearance
A painted driveway stands out from the normal ones. Remember, when people come close to your house, the first thing they see is the driveway. Therefore, one way of improving its appearance and making it easy to clean is by painting it.
Multiple Color Options
Another great reason painting the driveway is a good idea is that various color options exist. You can easily find a color you prefer and one that matches your home's exterior. Furthermore, you can get a color based on the material used to make the driveway.
Eliminate Stains
Driveways get stains from all around. Debris, birds, and animals are dropping, and all kinds of dirt find their way to the driveway, and with time, your driveway gets stained. The good thing about painting the driveway is that you prevent stains. Removing stains on concrete or other materials can be difficult. However, removing stains like grease and oil becomes easy when the driveway is painted. Furthermore, you don't have to spend a lot of energy and time scrubbing the driveway.
Driveway Paint Color Ideas
When selecting a color for your driveway, consider the overall aesthetic of your home and landscaping. Neutral colors like gray and beige can complement a variety of styles, while bold colors like red or blue can make a statement. It's important to also think about how the color will hold up over time, as some may fade or show dirt more easily than others. Additionally, consider using textured paint to add grip and prevent slips on your driveway surface. With these factors in mind, you can choose a driveway paint color that enhances the beauty and safety of your home's exterior.
Gray Driveway
Beige Driveway
Red Driveway
Concrete Driveway Paint Ideas
If you're looking to spruce up your concrete driveway, there are a few paint ideas that can really make it pop. First, consider adding a bold color like red to give your driveway some personality. Another option is to create a geometric pattern with different shades of gray or black. You could also try stenciling on a fun design, like chevron or polka dots, for a whimsical touch. Finally, if you want a more natural look, consider using a stain instead of paint to enhance the texture and color of the concrete. Whatever option you choose, be sure to properly prep the surface before painting and use high-quality materials for long-lasting results.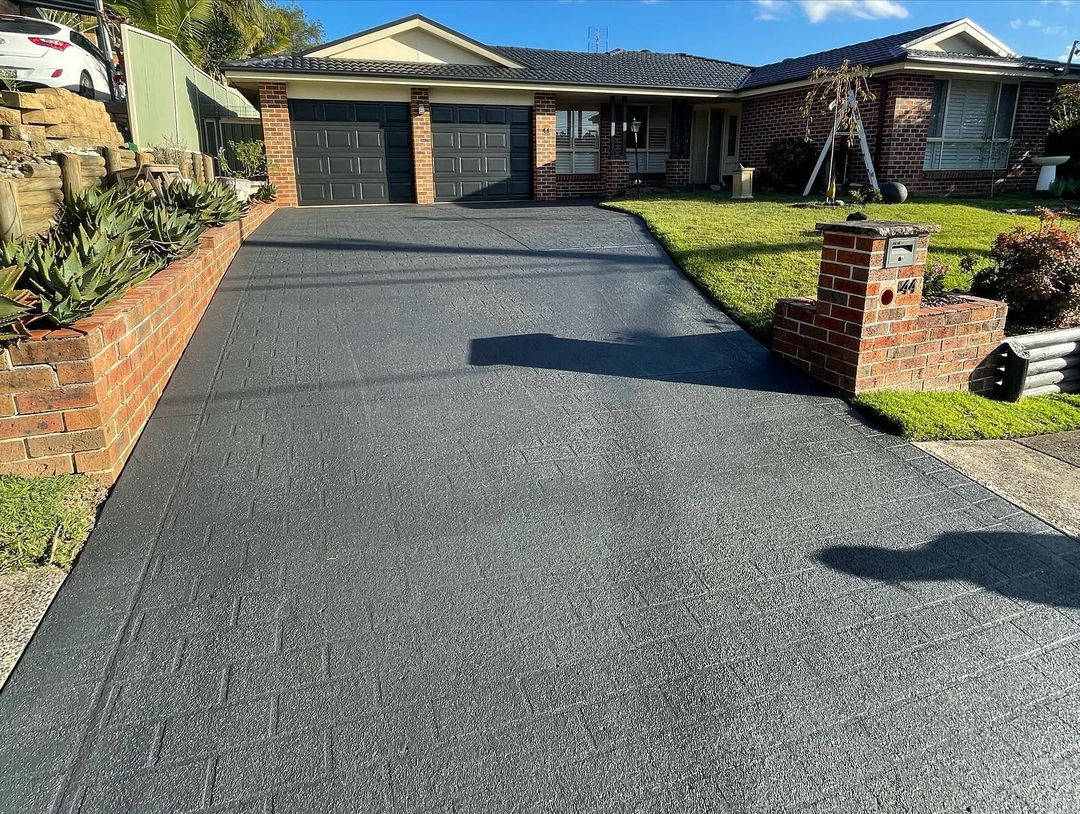 Benefits of Choosing High-quality Paint – Driveway Paint Ideas
The kind of paint you choose for your driveway can make all the difference. It can either build or break the entire look of your exterior. We insist on choosing high-quality paint for the driveway. Here are the benefits you gain from choosing high-quality paint for your driveway.
Durability
Paints have resin that improves adhesion on other surfaces. The better the resin, the better the paint will adhere to the surface, which means it will remain intact for a long time. Low-quality paint has less resin, so it will only take a short time before you redo the job. High-quality paints do not peel, crack, fade, or scuff, which is why they last longer.
Easy to Maintain
Maintaining a driveway with high-quality paint is a simple task. The paint does not collect or hold dirt, making cleaning easy. Even if some dirt is stuck, you can easily remove it using a wet cloth. Moreover, high-quality paints do not fade quickly.
Mold Resistance
It is common to find mold growth on driveways because of moisture. One great thing about painting the driveway is that it prevents mold growth. However, it is not just any paint. You need to ensure the paint is high-quality to avoid mold growth.
Fewer Coats
When using low-quality paint, you must apply several coats before you begin seeing the desired results. This means you have to spend more money buying the paint. However, high-quality paints eliminate this cost. You only need a few coats and are guaranteed the best cover.
Improved Appearance
When painting your driveway, appearance should be on the priority list. That means that the paint must be high-quality for the best results. The best driveway paints look better and smoother than low-quality ones.
Less Effort
As mentioned earlier, applying low-quality paint requires several coats, which is a lot of work. You need less time and effort to paint the driveway with suitable paint. The paint is also thicker. So it does not splatter. This prevents flowing and creates a mess.
In Conclusion
Painting the driveway makes it look great and protects it from weather elements. However, you must choose high-quality paint that will be easy to apply. Our driveway paint provides the best results and does not fade with time or scrubbing. Therefore, when choosing the paint for your driveway, prioritize quality