Are you looking to increase the functionality and aesthetics of your kitchen? The kitchen design with an L-shape and a central island is popular among homeowners and designers. This layout provides ample space for cooking, storage, and dining while allowing free movement in the area.
Why did you choose an L-shaped kitchen?
L-shaped kitchens can be ideal for many homeowners who want to maximize their space. The design offers ample counter and storage space and creates a natural flow in the kitchen. Additionally, it allows for flexibility in incorporating other functional elements, such as island countertops or breakfast bars.
Advantages
Disadvantages
– Provides ample counter space
– Offers additional storage
– Great for meal prep with separate areas for cooking and chopping
– Accommodates more seating with the addition of stools at the island
– Can be expensive to install
– May require professional help for proper installation
– Not ideal for tight spaces as it requires more square footage
Having an L-shaped kitchen with an island provides even more versatility and convenience. The island can serve as a workspace, seating area, or additional storage. With the added benefit of being able to accommodate large appliances like stovetops or sinks, L-shaped kitchens with islands are perfect for those who enjoy cooking and entertaining guests.
Furthermore, L-shaped kitchens also offer privacy and separation between the cooking area and the rest of the home. This creates a cozy environment for the cook while still allowing them to interact with others nearby.
What is the Best Size for an L-Shaped Kitchen with an Island?
For a fully-functional and aesthetically pleasing kitchen, the size of an L-shaped kitchen with an island is crucial. To determine the best size for such a layout, several factors come into play, such as available space, appliances, and user preferences.
The table below shows accurate data on the ideal dimensions for an L-shaped kitchen with an island. It took into account standard sizes for different appliances and counter spaces.
| Aspect | Dimension |
| --- | --- |
| Minimum width | 8 feet |
| Minimum length | 10 feet |
| Depth of countertop on both legs of L-shape | 2 feet |
| Distance between the two counters forming an L-shape | 4-6 feet |
| Width of the Island Countertop | 3-4 Feet |
A significant factor in determining the ideal size is ensuring that there is enough walking space around the island without feeling cramped. Also, it's important to ensure adequate storage space in cabinets within this area.
In addition to the factors mentioned above, consider installation costs when choosing the right size for your kitchen remodel. Customizing some aspects like cabinets might cost you more than buying pre-made cabinetry.
When planning your new L-Shaped Kitchen Island layout, keep in mind that functionality should be at its core but not compromise beauty or aesthetics. By sticking to these guidelines, you can create a perfect cooking and entertainment space that will serve your needs for years to come.
What is the disadvantage of an L-Shaped kitchen?
L-Shaped kitchens, though popular, do have some downsides. Here's what to keep in mind:
One of the significant disadvantages is inadequate counter space as most of it will be allocated to cabinets and appliances.
The kitchen's flow is limited since there is often only one entrance/exit point
Navigating around corners can be challenging and requires more effort.
Limited flexibility in terms of layout changes once installed since it's anchored in place
May feel crowded during food preparation or while entertaining guests
Despite its downsides, an L-shaped kitchen configuration can still be a functional option for smaller or open-concept homes with unique details that suit the homeowner's lifestyle.
Research shows that the popularity of L-shaped kitchens has surged over recent years as people continue to embrace open living spaces. Why settle for a normal-shaped kitchen when you can have an L-shaped one with an island? It's like having a fancy lounge in your cooking area.
L-Shaped Kitchen with Island Layout
An L-shaped kitchen layout with an island is a popular choice for maximizing space and creating an organized flow. The island provides additional workspace and storage, while the L-shape allows for efficient use of wall space.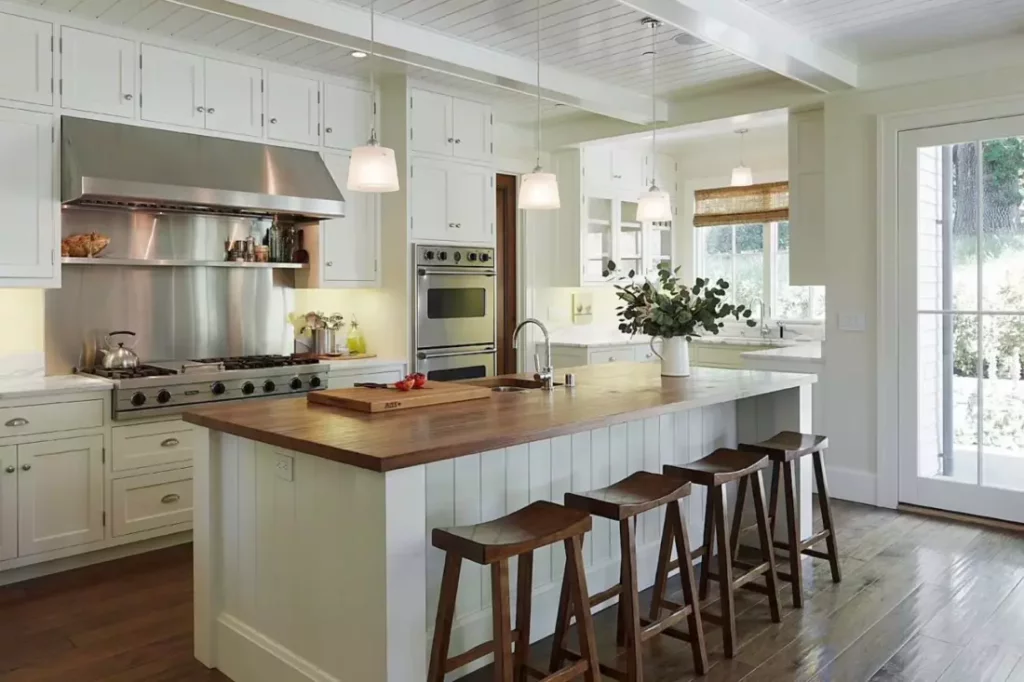 It is important to consider traffic flow when designing an L-shaped kitchen with an island. The island should be positioned so that it doesn't obstruct foot traffic between workspaces.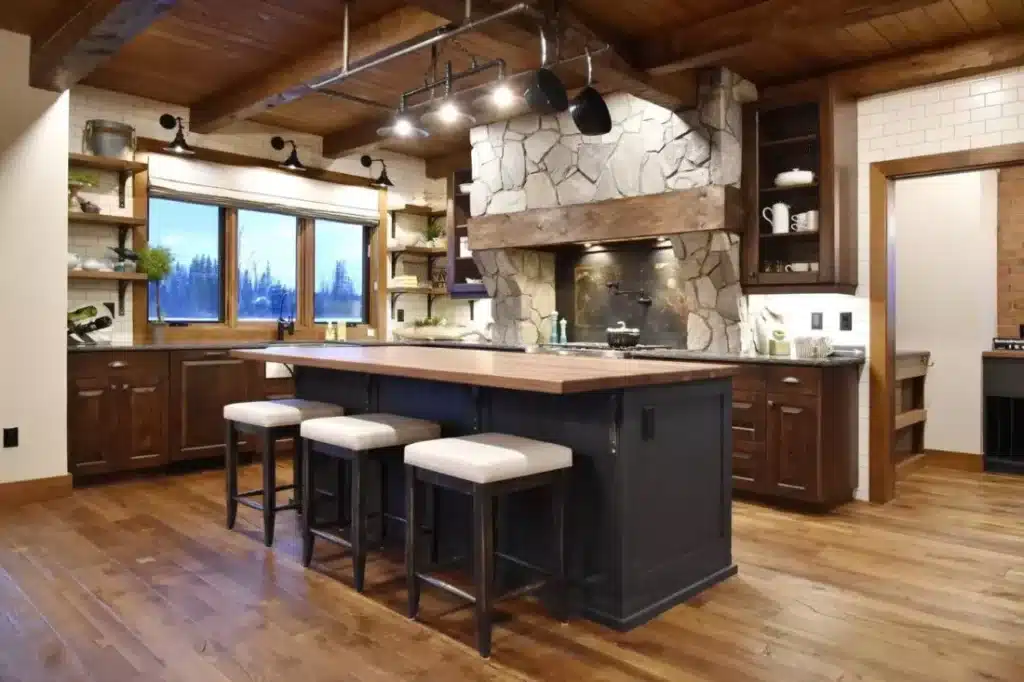 When selecting materials, consider functionality as well as aesthetics. Stone or quartz countertops are durable and easy to clean, while cabinet finishes should complement surrounding decor.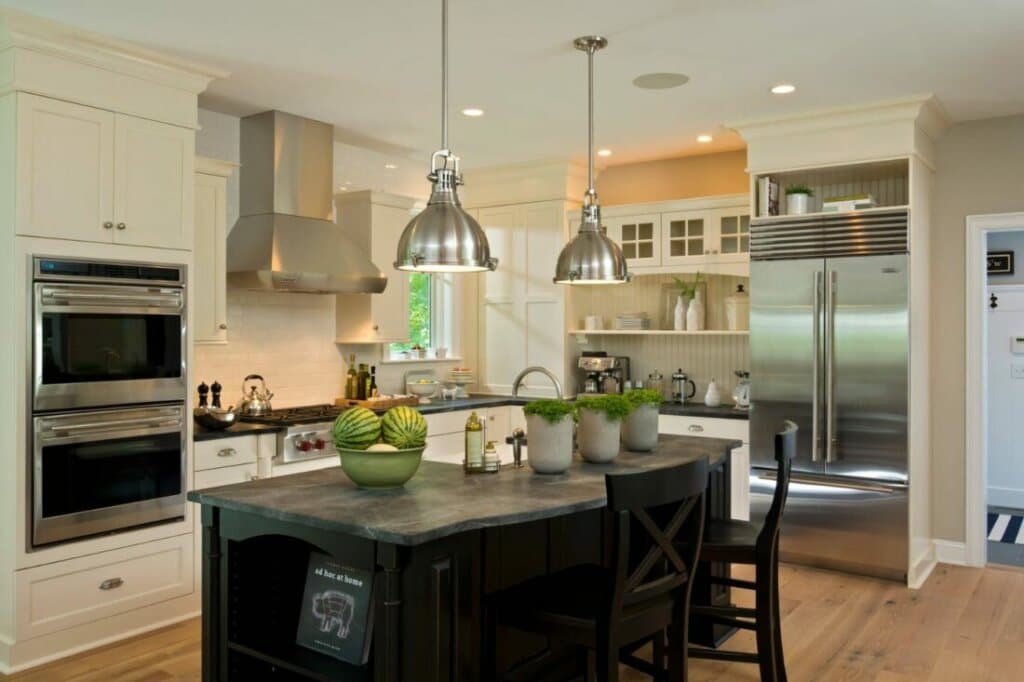 Modern L-Shaped Kitchen with Island
A contemporary kitchen design showcasing the popular L-shaped orientation with sleek functionality. The kitchen incorporates modern finishes and clever storage solutions.
Practical features such as a built-in wine fridge, pull-out pantry, and under-cabinet lighting elevate its functionality. This type of kitchen layout suits homes seeking an open-plan configuration that enable seamless entertaining.
L-Shaped Kitchen with Large Island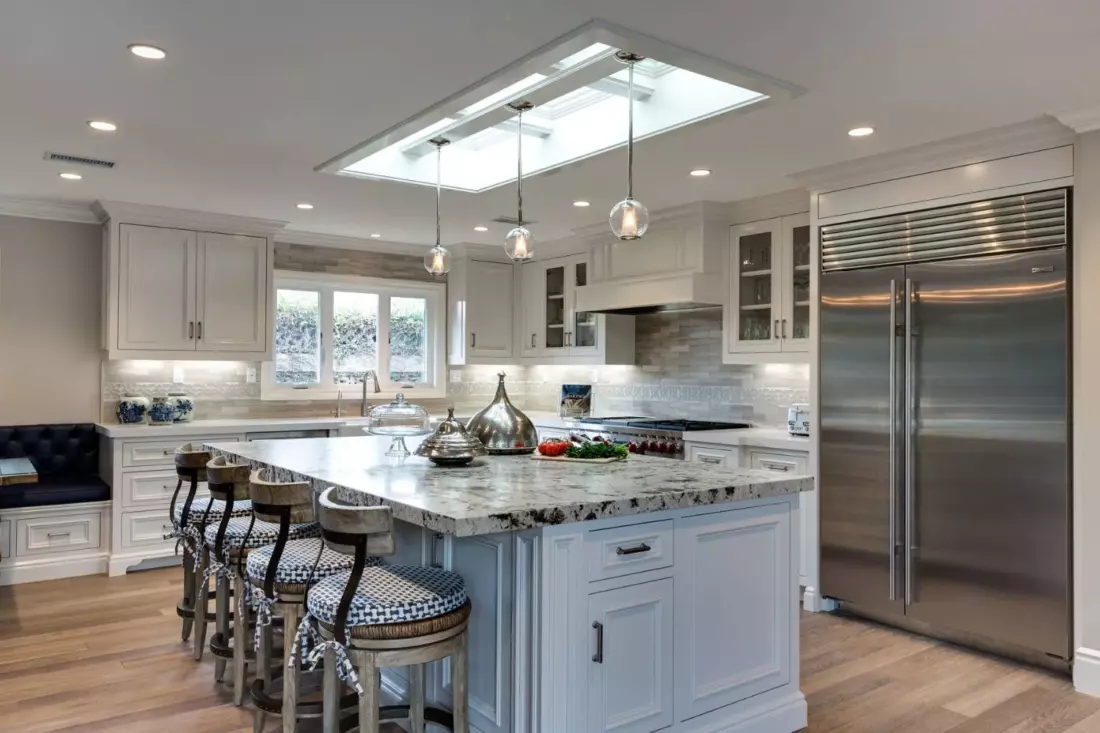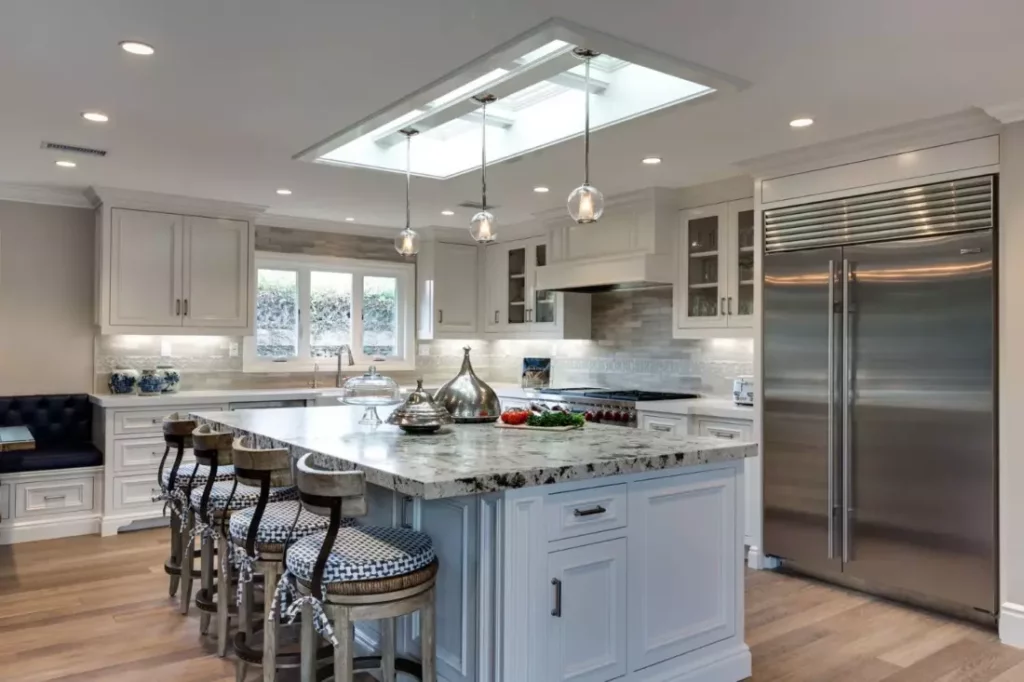 An L-shaped kitchen design is highly efficient in terms of space utilization, and when coupled with a large island, it becomes an even more impressive layout. The island serves as not only a seating area but also as additional storage and workspace for cooking.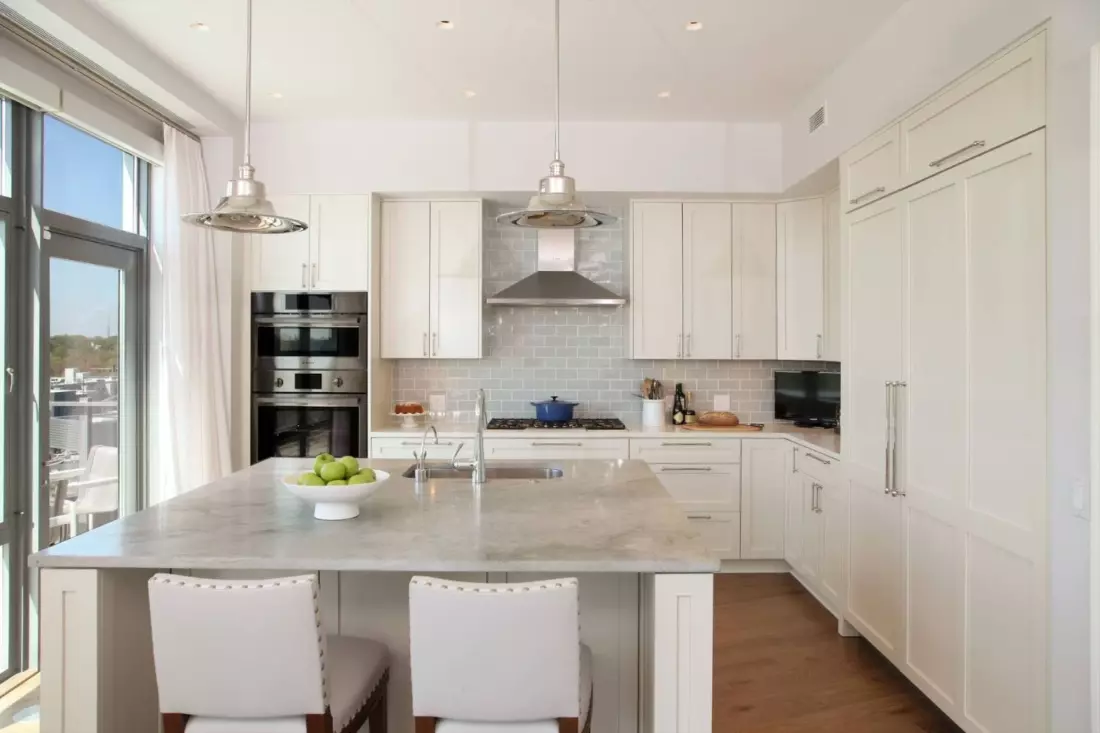 The following table showcases the specifications of an L-shaped kitchen with a large island. The dimensions of the island and countertops provide ample space to cook, dine and interact with others.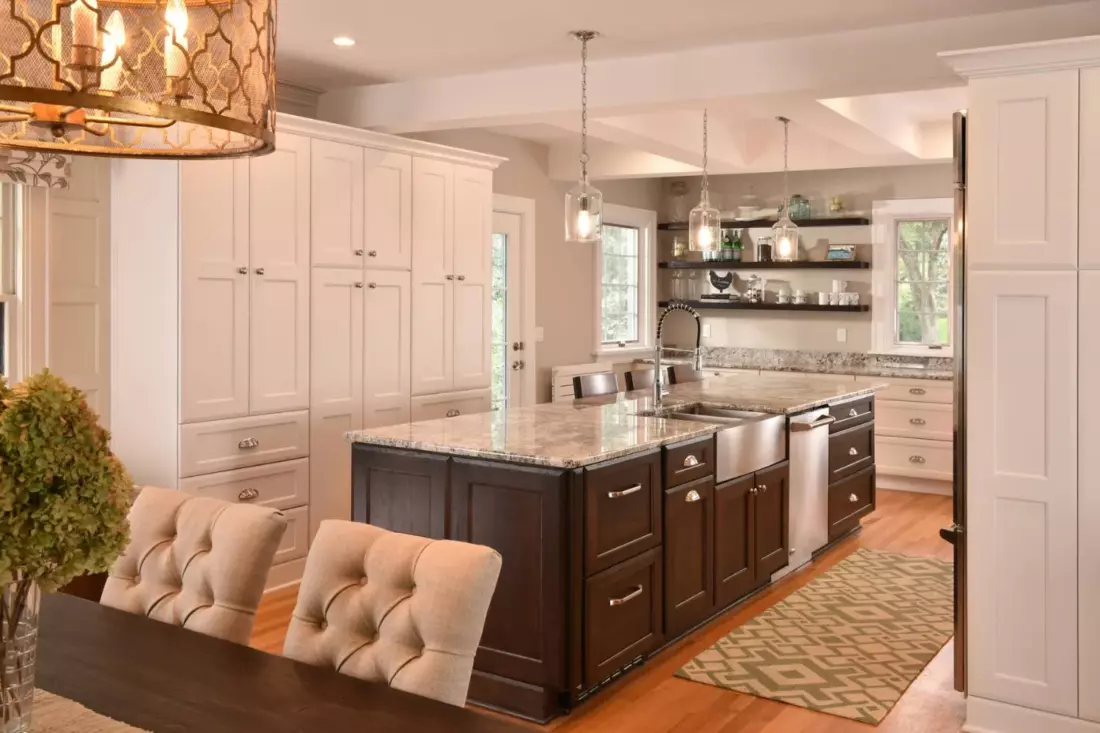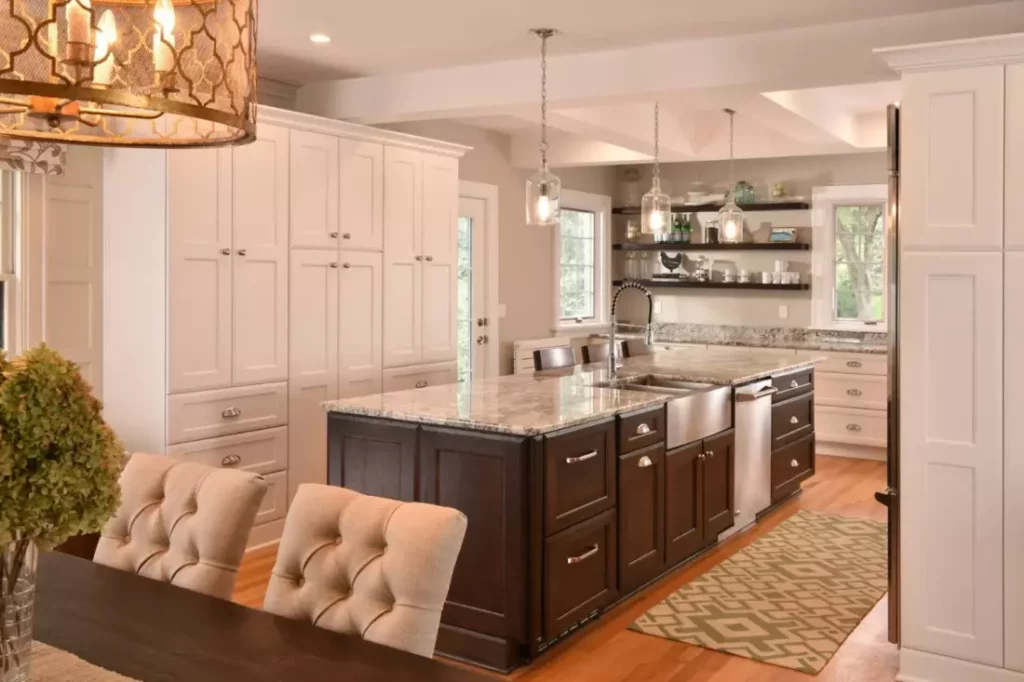 Apart from the functional benefits it offers, this design is suitable for homeowners who want to create a spacious open-plan living area that encourages socialization during meal times.
Pro Tip: Add pendant lighting over your large kitchen island to enhance its aesthetic appeal while providing functional lighting.
Large L Shaped Kitchen with Island
A spacious L-shaped kitchen design is enhanced with the addition of an island, providing additional workspace and storage. Here is an informative table that lists pertinent details of a large L-shaped kitchen with an island.
This exceptional L-shaped kitchen design includes unique features such as custom-built floor-to-ceiling cabinets that provide ample storage space that blends seamlessly into the overall home decor. The contrasting countertops in shades of grey and white add dimension to the room.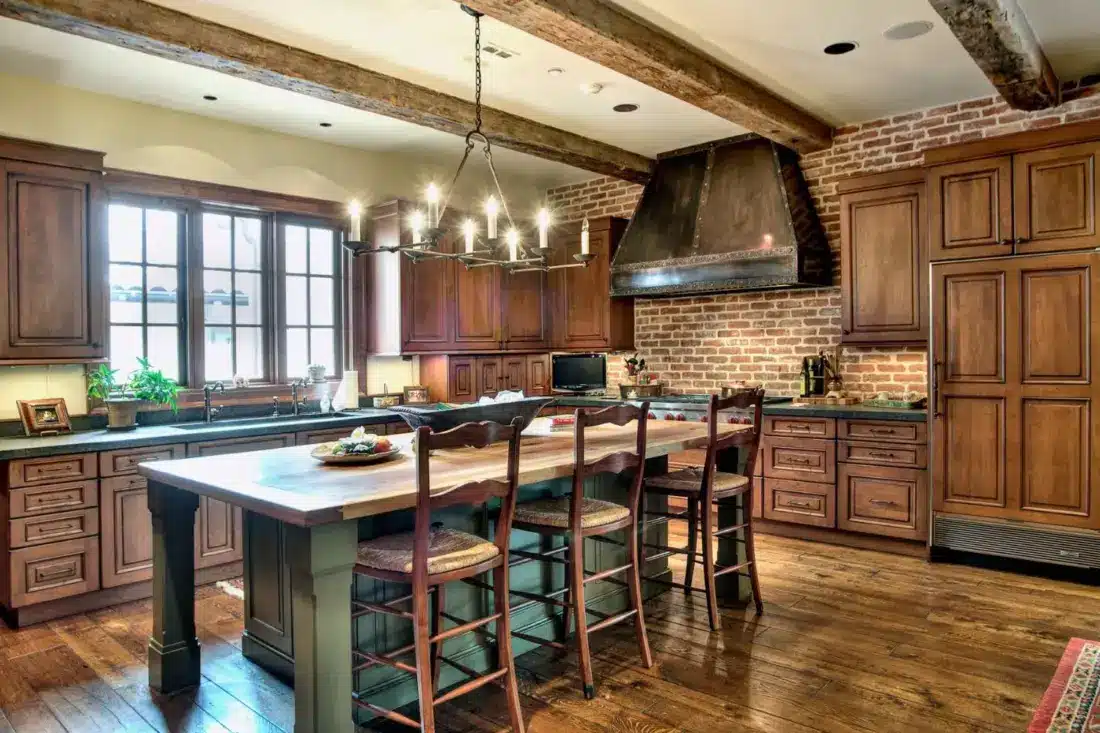 For convenience, consider adding technology such as smart refrigerators or motion-sensor lighting. Incorporating a backsplash made out of glass, stone or brick can even elevate this already beautiful kitchen further.
Even in a small L-shaped kitchen with an island, there's always enough room to accidentally set something on fire.
Small L-Shaped Kitchen with Island
A compact L-shaped kitchen design with a central island has become a popular choice for small and large households. The layout offers maximum counter space and storage solutions by utilizing two adjoining walls to form an "L" shape. Adding a strategically placed island to the mix creates additional cabinetry and workspace, elevating the functionality of this kitchen design.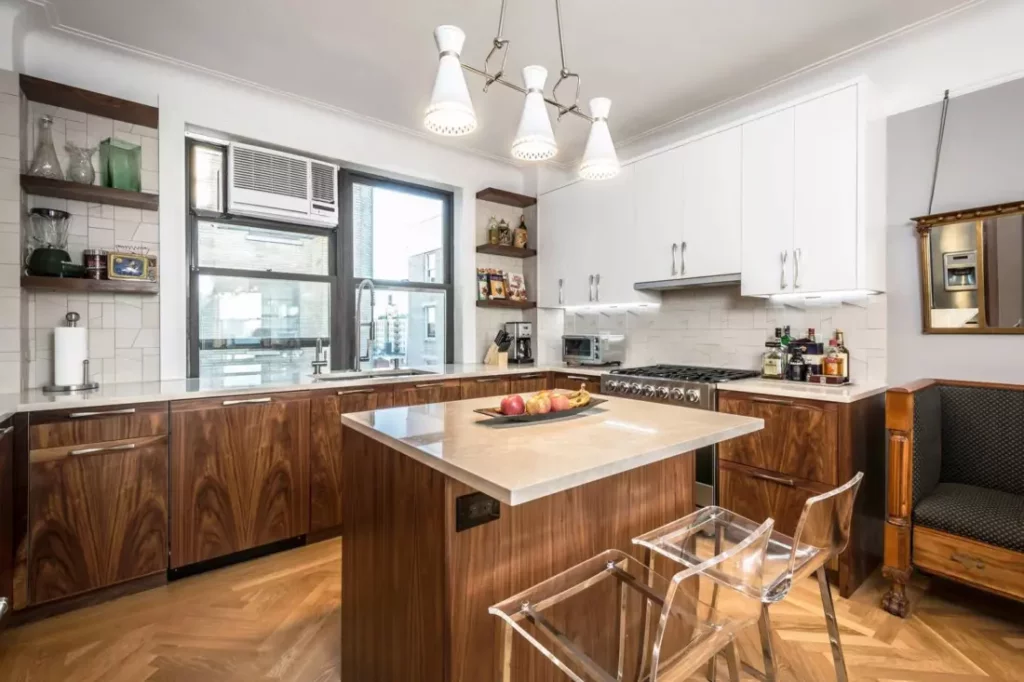 To make the most of this small L-shaped kitchen with an island, opting for custom cabinets that fit along the walls instead of freestanding units can maximize storage potential. Consider using open shelving on either side of the range hood to display favorite dishes or serve ware.
With a small L-shaped kitchen with an island design, even minor details such as selecting adequate lighting fixtures can make all the difference in creating an efficient yet aesthetically pleasing workspace.
L-Shaped Kitchen Island with Seating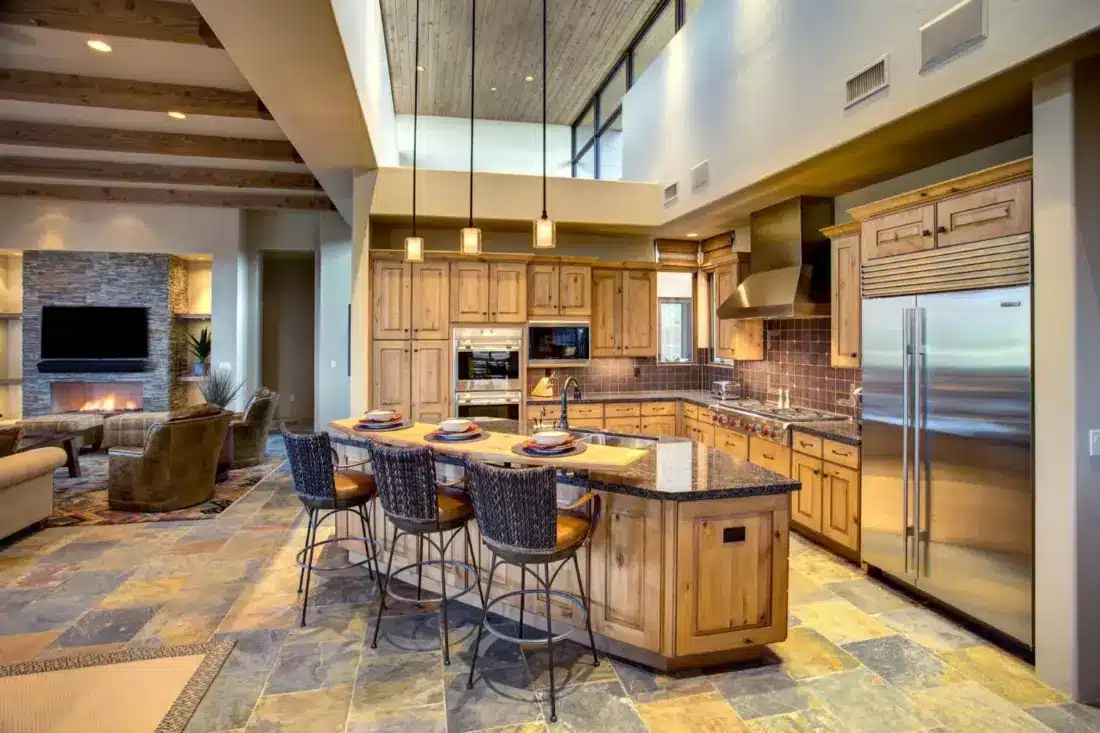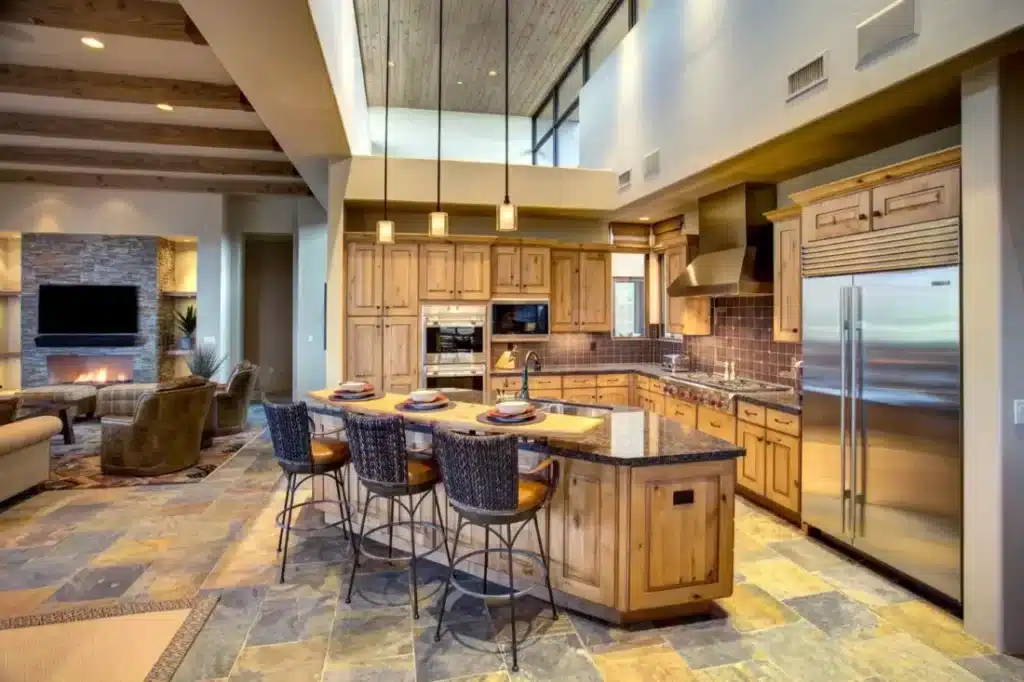 An L-shaped design kitchen with an island and seating is a popular layout for modern homes. The island serves as a multi-purpose area, providing additional counter space, storage, and room to socialize while preparing meals.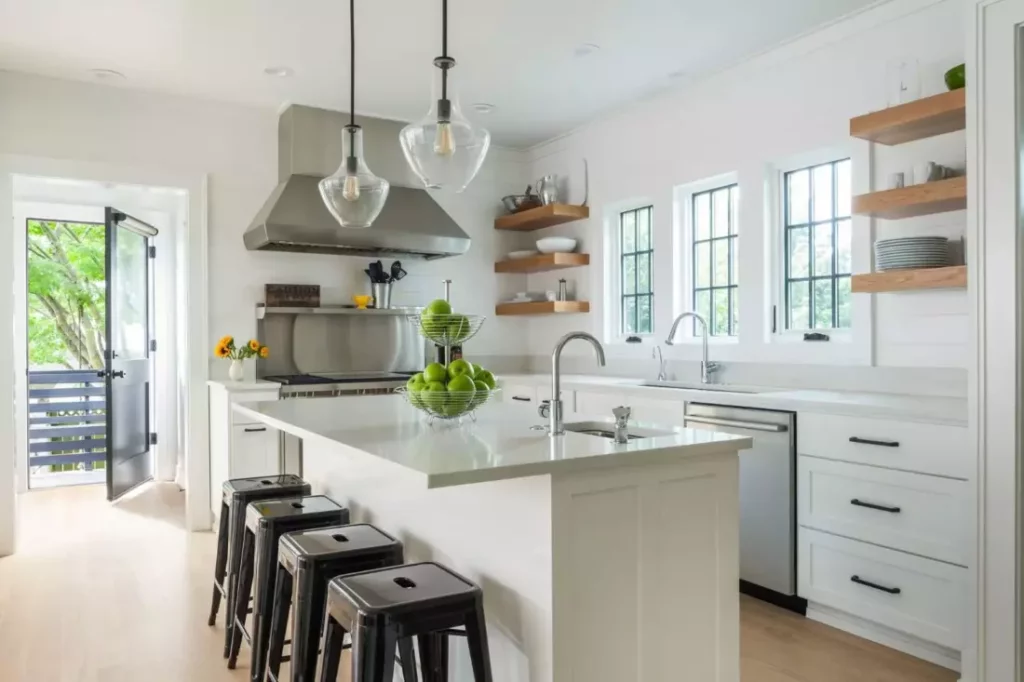 L-Shaped Kitchen with Island Open to Living Room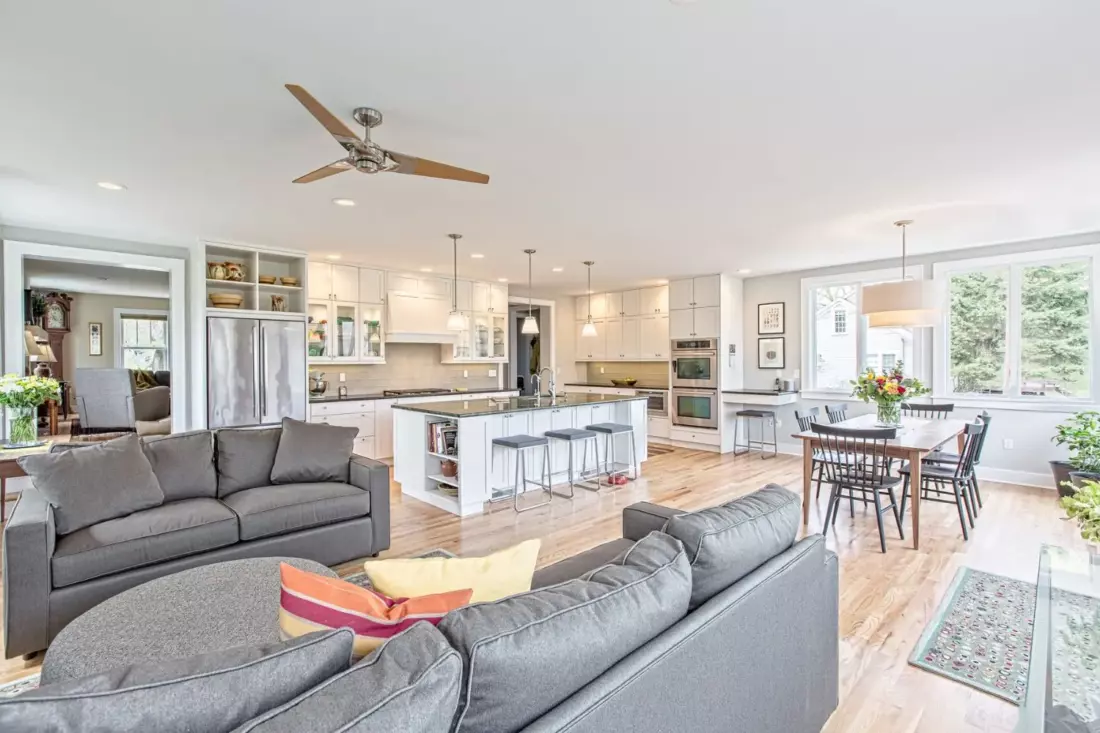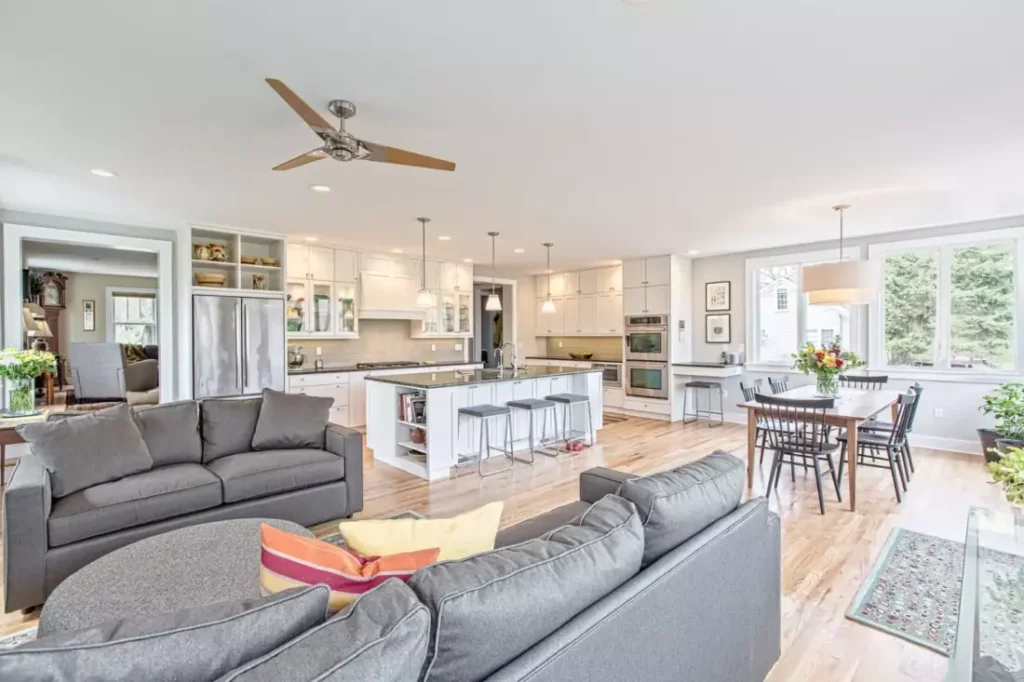 An L-shaped cooking area with an extended center island adjacent to the living room enables a smooth flow of work and social activities. This design provides an open and welcoming environment for guests while allowing the cook to move freely throughout the space.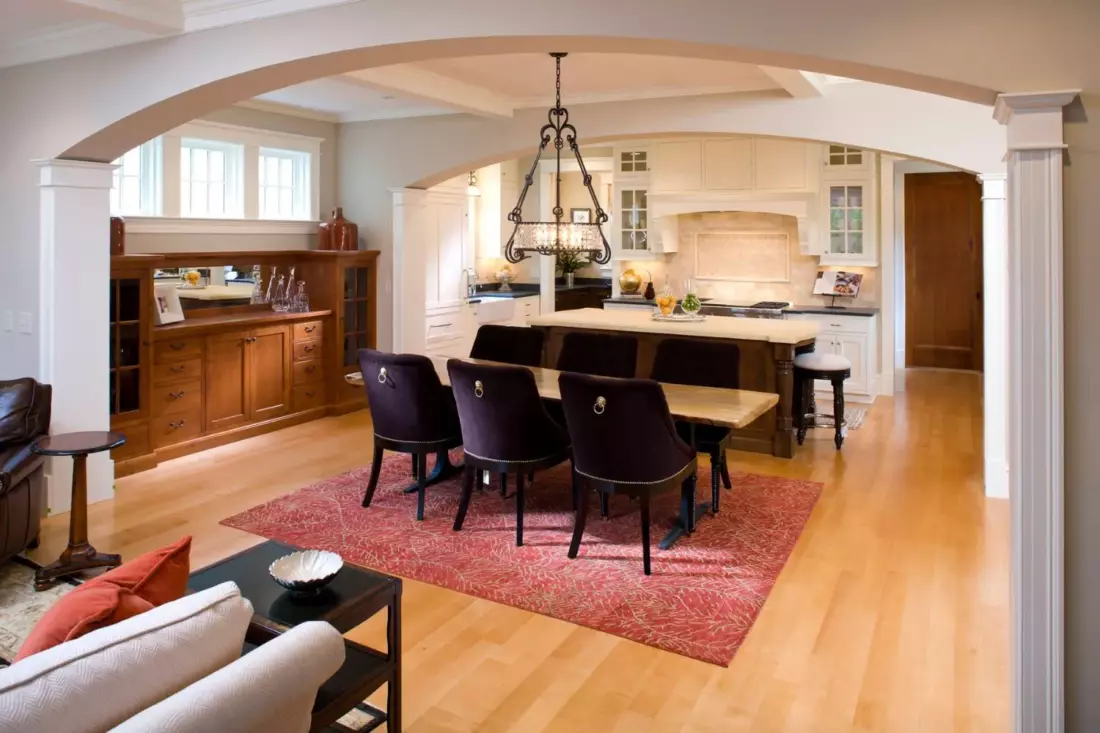 This design can also facilitate natural light transfer from one space to another. With this layout, you can easily transform your cooking area into part of your home's entertainment and leisure space.
It is essential to ensure that your kitchen's size fits within existing layouts for optimal functionality.
Other L-Shaped Kitchen with Island