Small Kitchen Ideas – A kitchen might be a place that needs a lot of space for serving food and cooking activity. It requires a large area to store some essential kitchen equipment. However, it is also possible to build one in a small space.
A little space does not always limit our activity and creativity, especially in a small kitchen. It can also be a fun place if we decorate it with a great and suitable design. Moreover, the right arrangement is essential to make the room looks beautiful and convenient.
Therefore, do not be sad if only a small area is available for a kitchen. There is always a way to make it look impressive and comfortable. With various designs and colors, we need to pick them correctly so that the kitchen will have a suitable layout and the whole design will fit our expectations.
Read Also: Bonus Room Ideas
HOW DO YOU DECORATE A SMALL KITCHEN?
Commonly, most houses have a room for a kitchen, but not every home provides a large room for it. Nevertheless, size does not define beauty or quality; big and small kitchens can function well. Moreover, all we need to do is the art of saving space to make the room functional and comfortable.
There are many ways to make a small kitchen look attractive. Firstly, create an open space for your kitchen by organizing some layouts on one wall. Second, build banquette seating to maximize the use of space. Third, decorate your breakfast nook area with cupboards and high shelves to store display items. Fourth, provide most of the dining area space and make it a priority.
Read Also: Media Room Ideas
Additionally, it would be best to ignore the storage arrangement. Try to build cupboards that extend to the ceiling so that besides saving space, it also helps to display your items beautifully. Furthermore, apply modular design to maximize your kitchen space by keeping the island on wheels to move it around efficiently. Lastly, don't forget to use the best furnishing since the smaller the kitchen, the fewer finishes to apply. 
WHAT IS THE BEST DESIGN FOR A SMALL KITCHEN?
The best design for a small kitchen maximizes the available space while still providing a functional and aesthetically pleasing environment.
If you are looking for the best design for a small kitchen, then you can go with a U-shaped layout. It is the most efficient choice as it allows many cabinets. With two corners in the layout, use pull-out internal fittings that permit access to these cabinets' contents to maximize storage.
MODERN SMALL KITCHEN IDEAS
A modern kitchen often looks well-organized and straightforward. It has a contemporary style and relaxed atmosphere. Commonly, this type of room has white or black as its dominant color. Therefore, here are some inspirations for small and modern dining ideas for your kitchen.
The most common thing in this list is how you can easily change your kitchen looks by upgrading your kitchen cabinets. With the help of these modern cabinets, not only do you add a fresh look to your kitchen, but you also add more storage space for easy organization.
Beach Style Kitchen
We can find a fresh and natural atmosphere in this U-shaped kitchen. A peninsula and flat-panel cabinets surround the room with a beige wall and medium-tone wood floor. In short, the kitchen color tones and layouts combine oceanic and modern looks inside the room.
Modern Mediterranean Kitchen
A Mediterranean accent is applied beautifully in this l-shaped kitchen. We can see it on the rug and lighting. Although small, the room looks great with a modern style and complete elements like white shaker cabinets and wood splash.
Black and White Kitchen
A two-toned room design will never bore our eyes. This minimalist kitchen applies a combination of black and white. Some black and dark color kitchen elements include quartz countertops, marble backsplash, and stainless steel appliances. Also, we can find more white applied on a peninsula, wall, and shaker cabinets.
WHITE KITCHEN IDEAS
A kitchen with dominant white always looks clean and charming. It brings a combination of modern and natural atmosphere. Additionally, there are many kitchen designs which are looking great with white too. Now, take a look at these specific kitchen color ideas below.
White Rustic Kitchen
Besides being covered in white painting and furniture, this small kitchen also applies a few rustic touches. We can see it in the use of wooden floors and ceilings. Also, the addition of rattan pendant lighting brings a natural look to the room's dominant white color.
Natural White Kitchen
Unlike other small kitchens, this one has an island with white countertops in the middle of the room. Behind the island is a transparent glass door, which becomes a natural light source. This enclosed kitchen looks natural and contemporary with white and grey touches.
Modern White Kitchen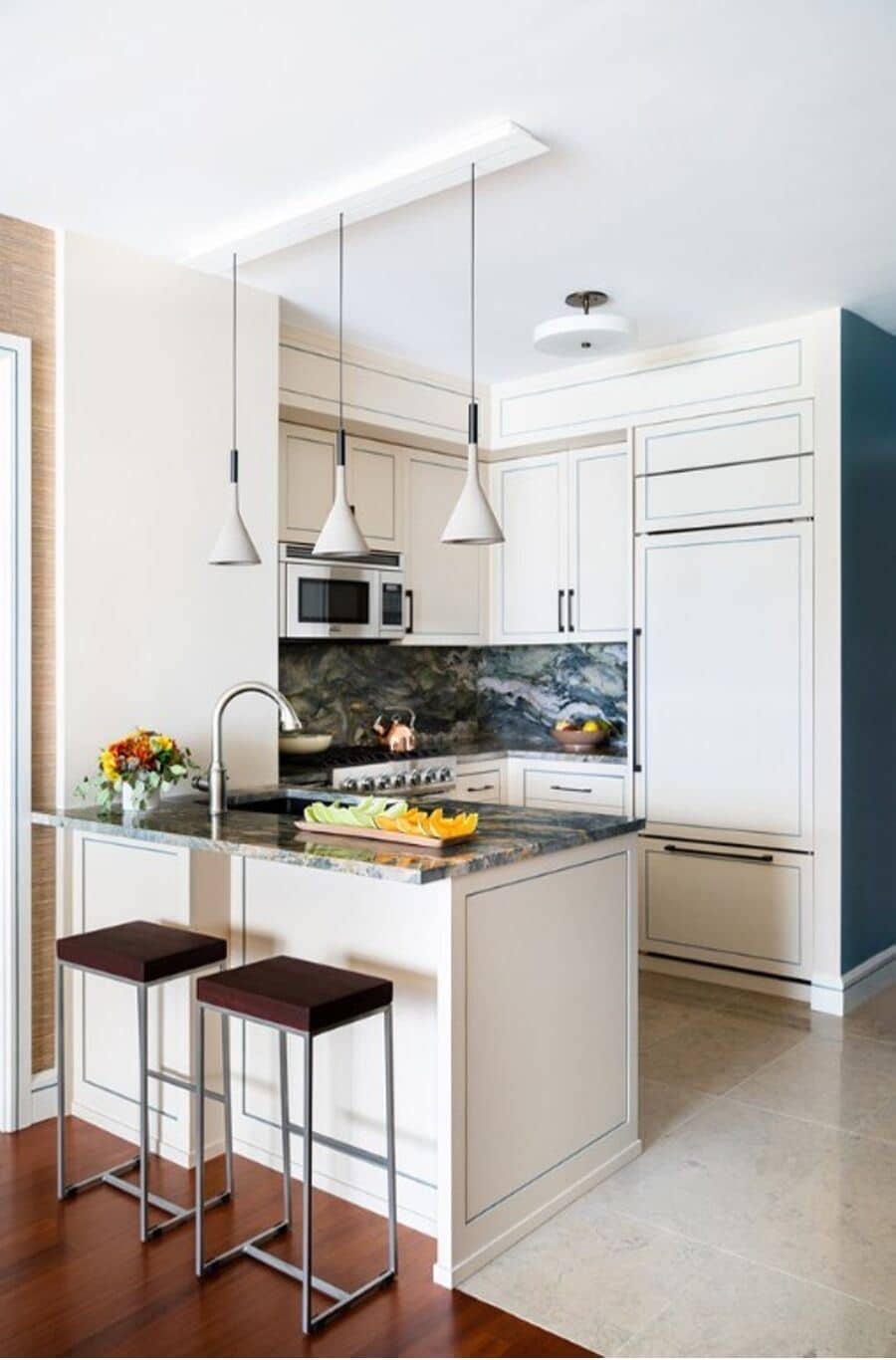 This tiny kitchen shows its transitional and modern design with two combinations of limestone and beige floor. Moreover, it looks suitable with beige cabinets and a peninsula with quartzite countertops. Although the kitchen only provides limited space, it looks lovely and exquisite.
GREY KITCHEN IDEAS
There are many variations of kitchen color ideas, including applying grey as a primary color tone. It is perfect for those who love less colorful tones but always want to look trendy. Thus, check out these grey kitchen ideas to inspire your kitchen color decoration.
Traditional Grey Kitchen
Grey and white blend perfectly in this traditional kitchen. Some grey touches play their part on the cabinets and the island. Also, white applies elegantly on quartzite countertops and stone slab backsplash. In addition to lighting, small lights on the ceiling and a pendant light give a little transitional touch inside the kitchen.
Eat-n kitchen
Still, with a grey and white room, this eat-in kitchen adopts a contemporary mode as its style. It has a white island with a quartz countertop and a grey backsplash. Moreover, some storage space on one side of the room is useful and well-organized, including the shaker cabinets above the cooking area.
Small Apartment Kitchen
Dark grey and bright orange are applied in this apartment kitchen. These two contrasting colors blend impressively. While grey covers most of the room, orange is only used on open shelves and a tiny island. Even though this kitchen is small, it looks excellent and is suitable for the apartment size.
SMALL KITCHEN IDEAS WITH ISLAND
Small kitchens rarely have islands because of their limited space. But it does not mean we cannot add it to complete the room. Below are some small kitchen ideas with an island to increase its functionality and use.
Classic Kitchen with Island
Combining grey, white, and dim lights creates a classical atmosphere. Moreover, the addition of an island makes the size of the kitchen looks more extensive. Besides, it has a great layout and lots of storage, providing an excellent arrangement.
Traditional Kitchen
An eat-in kitchen with a traditional style looks great, with an island in the middle of the room. There is a combination of grey and beige layouts, which produce a medium color tone. It makes the kitchen look open and large, especially with a light wood floor installation.
Simple Kitchen with Island
A beach-style kitchen can appear in a simple design like this one. As we can see, all appliances are made of stainless steel and arranged on one side of the room. There are also two classic pendant lights above an island and some LED ceiling lights as additional lighting. In short, the entire room design looks attractive and natural.
SMALL KITCHEN STORAGE IDEAS
Keeping some stuff in a small kitchen is not an easy job to do. We might need a lot of space to store them. However, arranging the kitchen with the right design will not be a problem. Therefore, take a little of your time to check these small kitchen storage ideas below.
Mid-Century Kitchen Storage
This kitchen is taking a traditional style with an 18th-century design. There is some storage with different models, including open shelves above the stove and a small gray cabinet in the corner. An island in the middle of the room also contains some storage to help you store and take your stuff while serving food.
Compact Kitchen Storage
A tiny kitchen will not look complicated with the right arrangement. In this kitchen, there is so much storage available. It started with U-shaped cabinets for storing cooking appliances. Then, white shaker cabinets are on top of the sink. Also, there are open shelves to place important stuff so they are visible and easy to reach.
Simple White Storage
A kitchen with simple storage shows a homey and casual atmosphere. In the top corner of the room, there are some white cabinets to store and organize small stuff. While on the bottom side, there are also other cabinets to store bigger stuff. All of that storage has a simple and basic design.
TINY GALLEY KITCHEN IDEAS
A galley is a type of kitchen with complete components with a similar model to the one built on a ship or a train. Besides, a tiny room in a house can also transform into a galley kitchen. Here are some inspirations to help you get more ideas on building a galley kitchen in a small room.
Gray Galley
In this kitchen, the entire room fills with a grey tone. We can see it on cabinets, appliances, backsplash, and the floor. It looks contemporary with frameless cabinetry, stainless steel appliances, and a mosaic backsplash. All of the equipment is magnificent and well-organized.
Composite Galley
Still, with a mid-century kitchen, this one looks fresh and appealing. It has a 1960s style with classical elements, including wood cabinets and hanging ceramic plates on the upper wall. There are also some glass windows to get natural light from outside. Those windows make the room looks larger and brighter.
Mini Kitchen Galley
A mix of mini-sized and traditional kitchens always looks impressive, especially for a galley kitchen. Here, we can see the conventional style clearly through dim lighting and classic fixtures, including gold faucets, vintage lights, and blue cabinets. There is also some other storage space available, like open shelves above the stove and a grey closet in the corner.
SMALL KITCHEN DINING IDEAS
Not every kitchen has a dining area, especially a small kitchen. But there are also some small kitchen designs in this area, which look good with the right organization. If you are trying to get some ideas for dining room decorating for the small kitchen, let us look at these inspirations below.
Small Kitchen with Island
Besides being complete with an island, this kitchen has a dining area. It looked perfect with white chairs and was placed near an open window. While in the cooking area, there are some green cabinets which are surrounding the appliances. In short, the whole kitchen design looks traditional and natural.
Mid-Century Dining Kitchen
A farmhouse dining room is perfect for those who love the simplicity and natural atmosphere. This kitchen has a dining and cooking area in one place. Moreover, All of the fixtures are arranged beautifully in a mid-century style. Furthermore, the room's color tones blend charmingly with the kitchen style and natural lights from the outside.
Contemporary Dining
Combining blue, white, and brown produce a contemporary look in this dining kitchen. It looks brighter with lighting above the island and dining area. Also, if we look at the flooring, there are two-tone hexagon floors, which is very entertaining. In addition to the storage, we can see open shelves on the wall to store stuff such as glasses and decorating items.
MINI KITCHEN IDEAS
A Mini kitchen is excellent for those with limited house space. It is often needed in a small house or an apartment. Look at these adorable kitchen models if you're looking for ideas or inspiration.
Mini Traditional Kitchen
Designing a small space between two rooms as a kitchen is an excellent idea. Here, this kitchen has the same case. It has a basic style with cabinets and main appliances only, including a stove and microwave. Also, a combination of white walls and wood cabinets show an appealing look and traditional style.
Contemporary Kitchen
If you have a limited room in your house, you might want to consider having this one. In this room, there is a combination of cooking space and a comfy seating area. It looks contemporary, with a patterned ceramic floor and white walls. Moreover, this room is not only functions as a kitchen but also as a place for casually gathering with friends and family.
Rustic Kitchen
A mini-sized kitchen with a brick wall and a wooden floor looks classical and rustic. Some stainless steel appliances also complete the room's needs. It seems clear and brighter with enough amount of light. In short, this lovely kitchen perfectly matches its size and beautiful arrangement.
Other Kitchen Ideas
CONCLUSION
In conclusion, having a kitchen in small-sized is both fun and tricky. It is fun to apply new designs but quite tricky to organize them. There are plenty of inspirations for small kitchen decorating ideas. Therefore, it is essential to get as many as possible so that the kitchen will finish with a great result and be comfortable to use.