Were you dreaming of a Man Cave? You are lucky! We have some brilliant shed-man cave ideas that will keep the bank intact. Create your own space without spending much. Need somewhere to relax? Or host game nights? These budget-friendly ideas will give you lots of inspiration.
Shed Man Cave Ideas on a Budget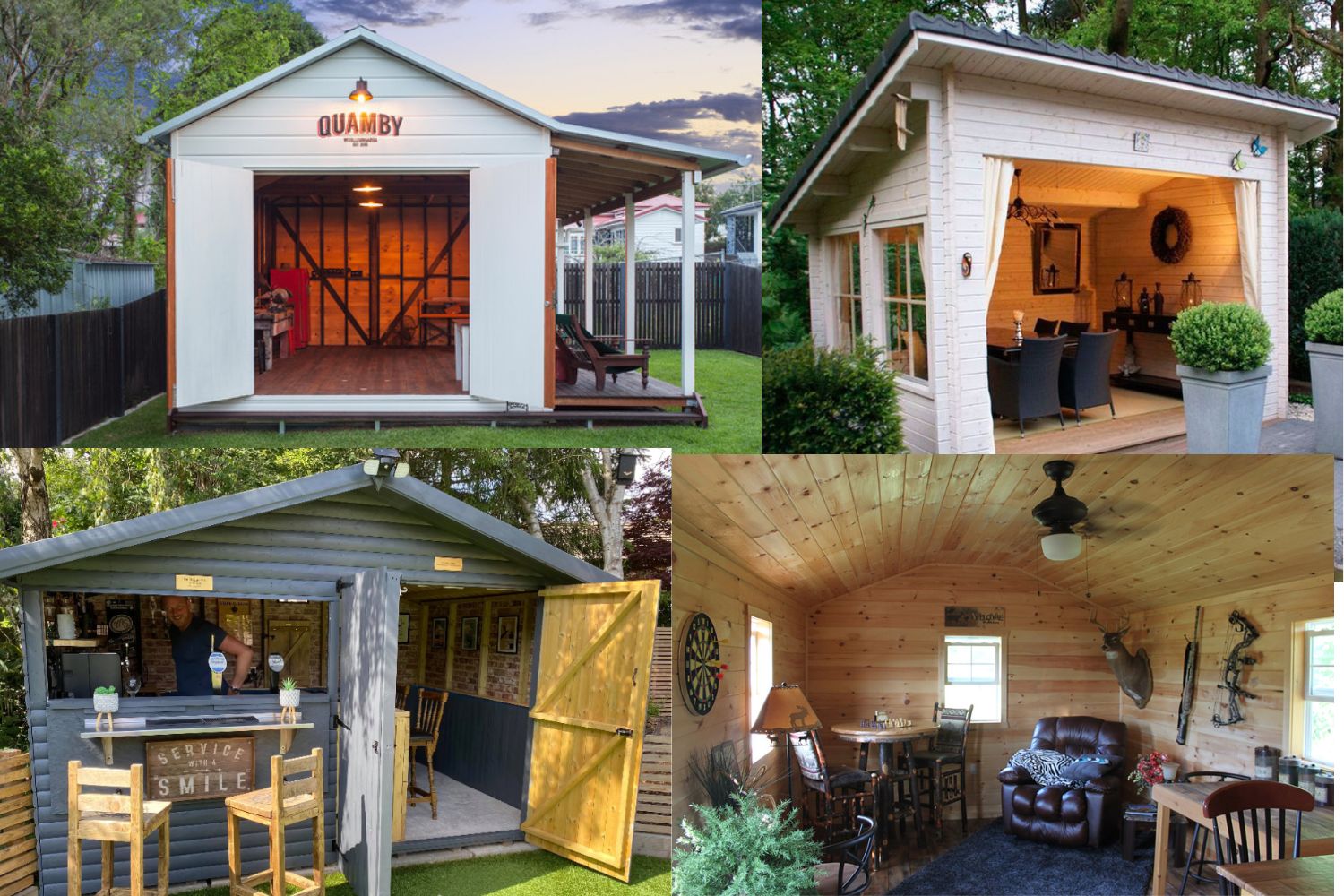 Want to transform your shed into a fantastic man cave without breaking the bank? Check out these budget-friendly ideas!
Creative seating: Repurpose old pallets or crates and add comfy cushions or bean bags.
Bar area: Attach hooks for hanging glasses and shelves for storing bottles and stock up on your favorite drinks.
Gaming zone: Set up a corner with a TV, console, and cozy chairs. You can even build your DIY projector screen.
Personalize: Show off sports memorabilia, movie posters, or collectibles. Add custom decals or neon signs to make it unique.
Soundproofing materials are also great for keeping the noise contained.
Time to turn your shed into a haven for relaxation and entertainment!
Small Man Cave Ideas on a Budget
Crafting a mini man cave with a budget can be tricky – but with some imagination and ingenuity, you can transform your area into the perfect spot. Here are three ideas to get you going:
Use what you have: Look around for items that can be reused as man cave must-haves. An old bookcase can be a chic liquor cabinet, while an unused desk could become a gaming station.
DIY projects: Embrace your inner handyman and take on some do-it-yourself projects. Build your own bar or entertainment center, and get creative with materials such as reclaimed wood or pallets for a rustic touch.
Thrift store finds: Remember to appreciate thrift stores! You can find great furniture and wall art for a bargain price. Be open-minded and go on a hunt for one-of-a-kind pieces.
For extra flair in your mini man cave, consider to add lighting. It creates the right atmosphere with string lights, floor lamps, and even neon signs.
Garage Man Cave Ideas on a Budget
Were you looking for a low-budget garage man cave design? Look no further. Creativity and resourcefulness will transform your garage – without breaking the bank.
DIY Decor: Make your artwork or signs with reclaimed materials. Add character and save money.
Repurpose Furniture: Give existing furniture a fresh look – paint, reupholstering—good deals at thrift stores or online marketplaces.
Functional Storage Solutions: Utilize vertical space – shelves, cabinets. Declutter and make it more visually appealing.
Lighting Matters: Invest in energy-efficient LED lighting fixtures or string lights. It is cost-effective and adds a warm glow.
Use vintage or sports memorabilia as focal points for a unique touch—great conversation starters when entertaining.
Low Budget Small Man Cave Ideas
Are you seeking budget-friendly, creative ideas to revamp your mini man cave? Look no more! We have some fantastic advice to help you craft the perfect chill spot without going over budget.
Think about using multi-functional furniture. Futons or convertible couches are great options because they work as seating during the day and a bed at night. This way, you'll get the best out of your space without going overboard with costs.
Come up with crafty storage solutions. Try utilizing wall-mounted or floating shelves to keep your things organized without taking up floor area. Vertical storage doesn't only look chic but also helps you keep a neat environment.
Moreover, lighting is vital to creating the right atmosphere. Instead of pricey ceiling fixtures, use affordable string lights or LED strips to give your man cave a cozy, inviting feel.
If you want to make it memorable, add personal touches like sports collectibles or pictures that show your interests. Not only will these items look great, but they'll also help you express yourself.
Rustic Man Cave Ideas
Rustic man caves are the perfect cozy, masculine space for relaxation and entertainment. Here are some inexpensive ideas to transform your cave into a rustic haven.
Think natural materials like wood and stone. Add wooden wall paneling, exposed brick walls, or a stone fireplace. These elements will make your space feel rustic and create a warm atmosphere.
Furniture choices are critical. Choose vintage or distressed pieces, like leather sofas or chairs, with an aged appearance. Add wooden coffee tables, rustic shelves, and vintage lighting fixtures.
Reclaimed wood accents are a great way to up the rustic ambiance. Use reclaimed wood boards for feature walls, decorative beams, or custom-made furniture like shelves or countertops. These materials add visual interest and help sustainability efforts.
Man Cave Rustic Bar Ideas
Man caves with rustic bars are the perfect mix of warmth and charm. They have a rugged sophistication that's hard to resist. So, if you love whiskey and entertaining friends, here are some elements you can add to make your man cave bar stand out:
A solid wooden bar top crafted from reclaimed materials. Plus, vintage bar stools with worn leather seats.
For extra authenticity, open shelves made from weathered barn wood to show off your spirits and glassware. And antique whiskey barrels and Edison bulb lights for a rustic feel.
For a complete experience, equip your bar with all the essentials: a classic beer tap system, craft brews, bitters, syrups, and garnishes for cocktails.
Man Cave Bar Ideas on a Budget
On a budget? No worries! It's still possible to create a fantastic man cave bar. Here are some ideas to help you out:
Repurpose furniture. Paint an old kitchen island or table. Get creative with colors and materials.
DIY shelving. Use reclaimed wood or industrial pipe. Display your favorite bottles and glassware.
Budget-friendly decor. Go for vintage posters, sports memorabilia, or brewery coasters. Cheap and easy to find.
Stock up smartly. Choose affordable liquor options. Look for sales or bulk discounts. Pick versatile mixers and garnishes.
DIY beer tap system. Create your own with basic plumbing knowledge. Serve draft beer at home.
Eco-friendly lighting. Use LED bulbs or string lights. Consume less electricity—longer lifespan.
Transform your space into the perfect hangout spot. Enjoy a stylish yet affordable man cave bar! Cheers!
Small Basement Man Cave Ideas
Need to make a budget-friendly man cave in the basement? Here are some ideas to turn it into the ultimate getaway!
Get comfy seats, like bean bags or recliners.
Set up an entertainment area with a big TV, sound system, and game console.
Put in a mini fridge or bar cart for easy access to drinks.
Get creative with lighting – LED strip lights or neon signs.
Display sports items or movie posters to show your interests.
Install a pool table or foosball table for friendly competition.
For something special, why not add vintage arcade machines or build a DIY home theater with comfy seating and surround sound? You can make your man cave one-of-a-kind with just a bit of creativity.
One man made a retro arcade room – with classic games, pinball machines, and even a jukebox – and it became the talk of the town! It's proof that with some DIY know-how, you can have the man cave of your dreams without spending a fortune.
Low Budget Backyard Man Cave
Transforming your backyard into a man cave on a budget is possible! Creativity and resourcefulness allow you to make an enjoyable space without breaking the bank. Here's how:
$100: Repurpose old furniture or pallets for seating and tables.
$50: DIY bar with repurposed materials.
$20: Hang string lights for ambiance.
$10: Use outdoor rugs to define the space.
$0: Rearrange existing outdoor furniture for a new layout.
For a unique touch, add plants and greenery. Plants not only make it look nicer but also create a tranquil space. Hanging planters, potted plants, or raised plant beds with reclaimed materials work great.
Creating a low-budget backyard man cave doesn't mean compromising on style or comfort. With creativity and resourcefulness, you can turn your outdoor space into an inviting retreat that fits your budget. So why wait? Start planning your man cave today!
Outdoor Man Cave Shed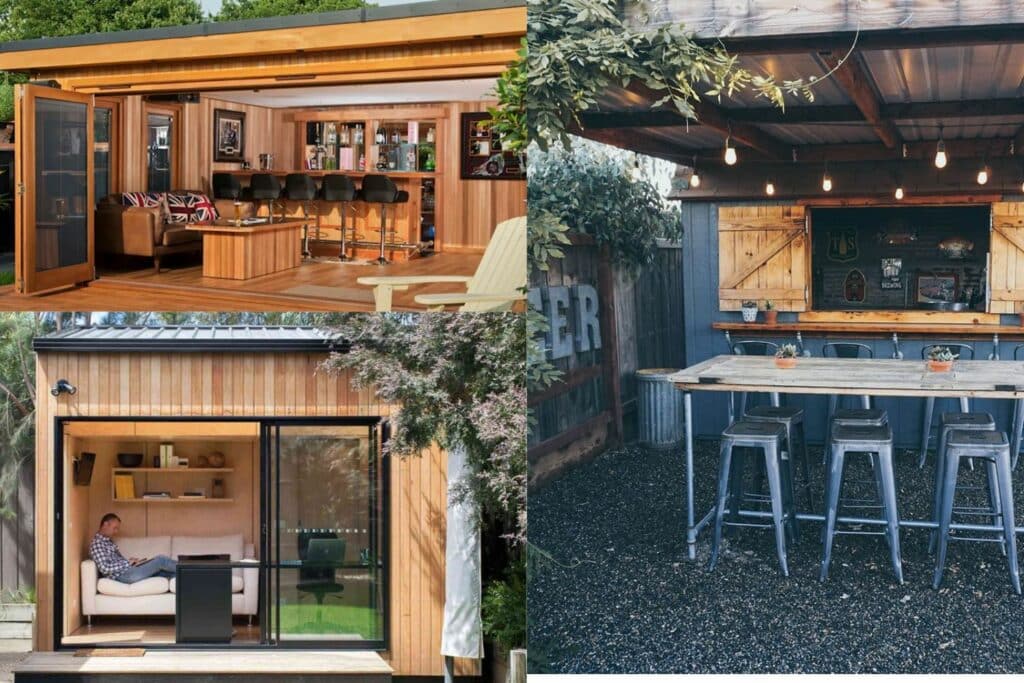 An outdoor man cave shed is the ultimate backyard addition! It's a secluded spot for men to chill, be creative, and enjoy hobbies. Here are four key points to think about when building yours:
Location: Find a peaceful corner of your backyard that gets plenty of air and light.
Design: Make it truly yours with a design that fits your style. Add comfy chairs, a bar, or even a TV!
Functionality: Plan the layout to maximize its use – allocate areas for activities like gaming, reading, or DIY projects.
Budget: Stick to a budget and look for affordable materials. Repurpose items you already have for quality without breaking the bank.
For a unique touch, install soundproofing materials to reduce noise from outside. Eco-friendly elements like solar lighting or rainwater harvesting systems are great, too!
Frequently Asked Questions
Q: How can I create a man cave in my shed on a budget?
A: Several budget-friendly ideas exist for transforming your shed into a man cave. You can repurpose old furniture, use inexpensive decorations, and get creative with DIY projects. Consider painting the walls, adding comfortable seating, and incorporating personal touches to make it your own.
Q: What are some inexpensive flooring options for a shed man cave?
A: If you're on a budget, you can use affordable options like vinyl tiles, laminate flooring, or even floor paint. These alternatives are cost-effective and easy to install, providing a great look for your man cave without breaking the bank.
Q: How can I make my shed man cave cozy and comfortable?
A: To create a cozy atmosphere, ensure proper insulation and ventilation in your shed. Add rugs or carpets for warmth, hang curtains or blinds for privacy, and consider installing a small electric heater or fan for temperature control. Finally, add comfortable seating and cushions or pillows for an inviting feel.
Q: What options do I have for lighting in a shed man cave on a budget?
A: There are various affordable lighting options for a shed man cave. Consider using string lights, LED bulbs, or track lighting, which can be inexpensive and provide ample illumination. You can also repurpose old lamps or purchase affordable light fixtures from discount stores.
Q: How can I personalize the decor in my shed man cave?
A: Personalizing your shed man cave can be done on a budget. Hang posters or artwork that reflects your interests, display collectibles or memorabilia, and add shelves to showcase your favorite items. You can also create a themed decor by incorporating your hobbies or sports team memorabilia.
Q: Are there any tips for organizing storage space in a shed man cave?
A: Absolutely! Utilize storage solutions like wall-mounted shelves, pegboards, or stackable bins to maximize the space in your shed man cave. Consider using storage furniture with built-in compartments or repurposing old cabinets for additional storage. It's also helpful to declutter and only keep essential items to avoid a cramped and cluttered space.