Are you looking to add a timeless, classic look to your home? White oak cabinets are a perfect choice! It provides a natural, warm, homey feel; these cabinets bring luxury yet functionality to any kitchen. This article lets you determine if white oak cabinets are right for you.
Is White Oak Good for Kitchen Cabinets?
When it comes to kitchen cabinets, white oak is an excellent choice due to its durability, strength, and stunning appearance. It also has high amounts of tannins, which makes it more resistant to rotting and insect damage. Additionally, it finishes beautifully with staining or painting, providing endless customization options.
| Advantages | Disadvantages |
| --- | --- |
| Durable and strong | More expensive than other wood types |
| Resistant to rotting and insect damage | Requires regular maintenance to retain its appeal |
| Broad grain patterns add character and texture | – |
How Much Do White Oak Cabinets Cost?
White oak cabinets are a popular choice in modern interior design. The cost varies depending on several factors, like size, style, customization, and material quality. Below is a table showcasing the estimated cost of different types of white oak cabinets based on their size:
| Cabinet Size | Cost |
| --- | --- |
| Wall Cabinet 24″ x 30″ | $200 – $500 |
| Base Cabinet 30″ x 24″ | $400 – $800 |
| Tall Cabinet 76″ x 36″ | $1,000 – $2,000 |
These prices are an average estimate and may vary depending on location and store policies. It's essential to consider all factors before purchasing them, as they can add value to your home for years to come.
Apart from cost, it's essential to remember that wood needs maintenance over time to preserve its finish and look. Avoid placing hot items directly on cabinet surfaces, clean spills immediately, and use non-abrasive cleaners for regular cleaning. These practices will ensure that your cabinets maintain their beauty.
How Durable is White Oak?
White oak is a highly durable wood commonly used for cabinetry in homes, offices, and commercial spaces. Its durability is due to its high density and toughness, making it resistant to wear and tear. In addition to its strength, white oak has a unique cellular structure that makes it resistant to insect infestation and rotting. This characteristic leads to low maintenance needs.
| Durability Test | Result |
| --- | --- |
| Janka Hardness Scale | 1360 |
| MODULUS OF RUPTURE (MOR) | 12,200 psi |
| Shear Strength (Parallel) | 1,780 psi |
Pro Tip: To further enhance the durability of white oak cabinets, use a sealant with UV inhibitors and ensure proper ventilation in the installation area.
No need to worry about white oak turning yellow as long as you don't spill mustard all over it.
Does White Oak Turn Yellow?
One common concern among homeowners is whether white oak turns yellow over time. The answer is yes, but it depends on exposure to sunlight and other environmental factors.
As white oak ages, it can develop a yellowish hue due to the wood's natural aging process. This can be accelerated by exposure to direct sunlight or heat. However, some homeowners prefer this look as it adds character and warmth to their space.
To prevent excessive yellowing, it's important to maintain proper care and maintenance of your white oak cabinets. Regular cleaning and conditioning can help keep them looking their best for years to come.
While white oak may naturally age with a yellowish tint, not all woods exhibit this characteristic. Some types of oak, like red oak, do not tend to turn yellow over time.
White Oak Kitchen Cabinets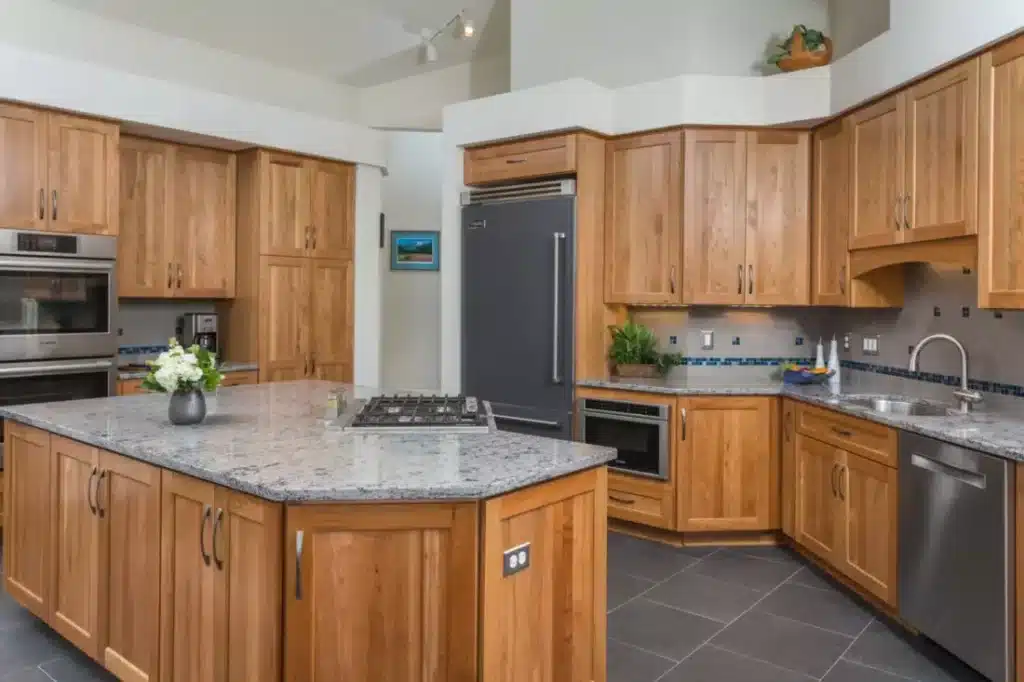 Due to its durability and beauty, white oak has become a popular choice for kitchen cabinets. The natural detailing of the wood grain adds character and warmth to any kitchen.
If you want to add a nature-inspired tone and timeless appeal to your kitchen, white oak would be a perfect fit. Utilizing this durable wood in your kitchen cabinetry provides not just natural beauty to your space but also toughness that guarantees longevity.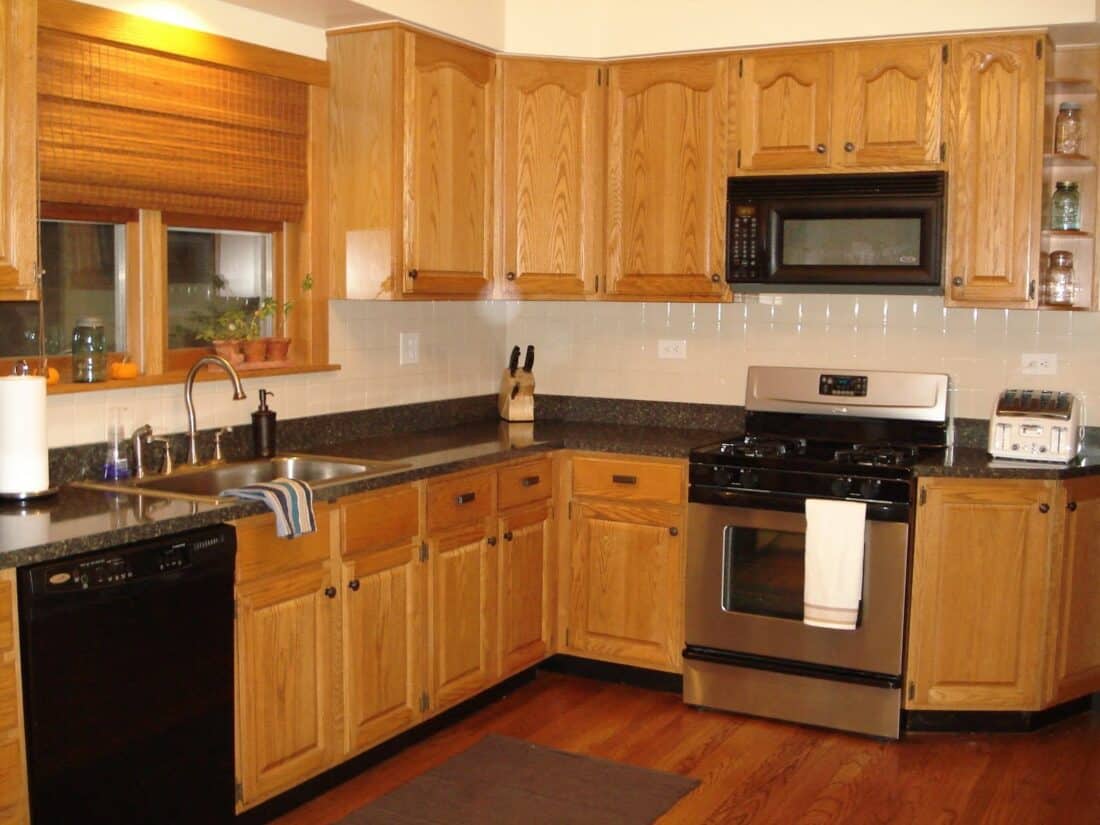 Pro Tip: Regular cleaning is important for maintaining the look of your white oak cabinets. Use a damp cloth followed by a dry one afterward. Avoid using harsh chemicals that may damage the wood's surface appearance or cause discoloration over time.
White-Stained Oak Cabinets
A light stain cabinet creates an elegant and timeless appearance. They are popular in contemporary kitchen design for their clean and bright look.
White-stained cabinets offer a fresh and modern aesthetic.
Their neutral tone complements various color schemes and styles.
White-stained cabinets add value to homes as they are durable and long-lasting.
The flexibility of white stained oak allows homeowners to choose from several finishes, including matte, glossy, or weathered. This variation brings a unique charm to the space.
Rift-Sawn White Oak Cabinets
Rift-sawn oak is a popular wood type for cabinets due to its unique pattern and durability. To create one, the wood is cut at an angle to the growth rings, creating a straight grain pattern with minimal flake or irregularity.
In addition, rift-sawn white oak can be stained in various shades ranging from light to dark, depending on personal preference.
Quarter-Sawn White Oak Cabinets
The grain pattern becomes more pronounced when quarter-sawn, resulting in a unique and appealing decorative look. The cabinets made from quarter-sawn white oak are aesthetically pleasing, long-lasting, and resistant to warping.
In addition, quarter-sawn white oak is also environmentally friendly as it comes from renewable sources. The cabinets made from this wood type add value and beauty to any home decor, enhancing the room's overall ambiance.
Once, a client wanted quarter-sawn white oak cabinets for their kitchen remodel. Initially, they were hesitant about the cost compared to other wood types but decided to proceed after understanding the benefits and longevity of using this material. They were thoroughly satisfied with the final outcome of their kitchen renovation and appreciated the quality craftsmanship that went into constructing their new cabinets.
Modern White Oak Kitchen Cabinets
Modern kitchen designs incorporate white oak cabinets, giving your space a refined and natural look. Not only do these cabinets provide durability and strength, but they also give an organic touch to the modern aesthetic.
When choosing cabinets for your kitchen, you should also consider factors such as the hardware finishes, backsplash, and countertop options that will complement them.
White oak is often favored for its natural beauty and ability to adapt various stains and lacquers. It's an eco-friendly choice since it's sustainably harvested from North America.
Natural White Oak Cabinets
The beauty of cabinetry is often found in natural materials. White oak presents a classic and elegant option for your kitchen or bathroom. Its clean and minimalistic grain pattern offers warmth and refinement to any space, making it a desirable material for high-end projects.
The natural look provides simplicity-loving enthusiasts with endless design possibilities when it comes to creating their homes' desired aesthetics without compromising on functionality.
Consider oil-based cleaner protection from spills on wood surfaces. Utilizing various combinations of hardware finishes while accenting the cabinet doors with different sizes of knobs/pull handles/sconces/rope drawer pulls could add value to your home. Opting for clear-coat over paint capable-of-leaves maintaining the original fine lines providing a charming look eventually increases overall home value significantly.
Rift-Cut White Oak Cabinets
To create a versatile yet timeless aesthetic, it is worth considering using rift-cut white oak cabinets. These cabinets are expertly crafted to provide an elegant and contemporary look that complements modern homes seamlessly.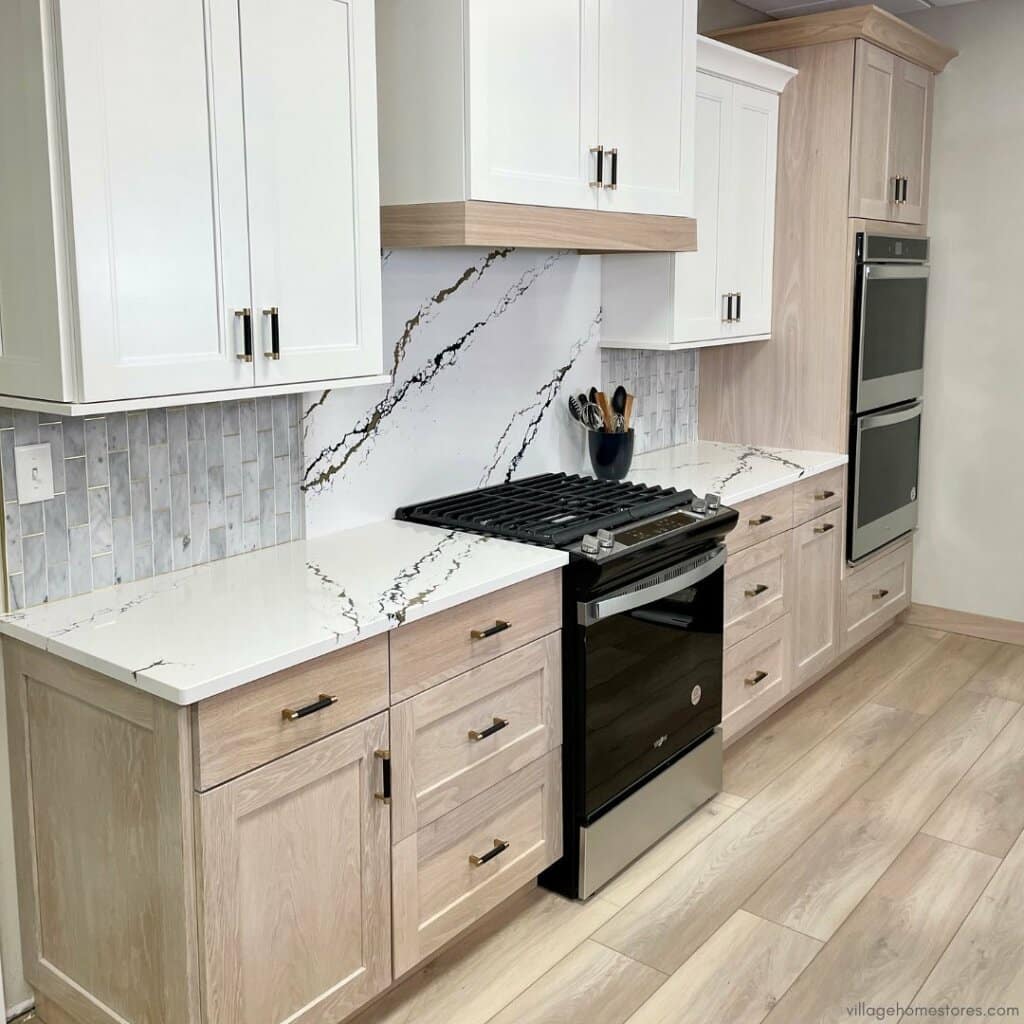 Rift cutting is a unique method that is used to produce straight-grained, longboards with tight patterns, which lends itself perfectly to making cabinets. Maintaining its strength and durability, this wood can withstand daily wear and tear without losing its unique character or beauty. If you're looking for a truly versatile solution for your home that stands the test of time while complementing your style, our range of rift-cut white oak cabinets is the perfect solution for any modern home.
White Oak Shaker Cabinets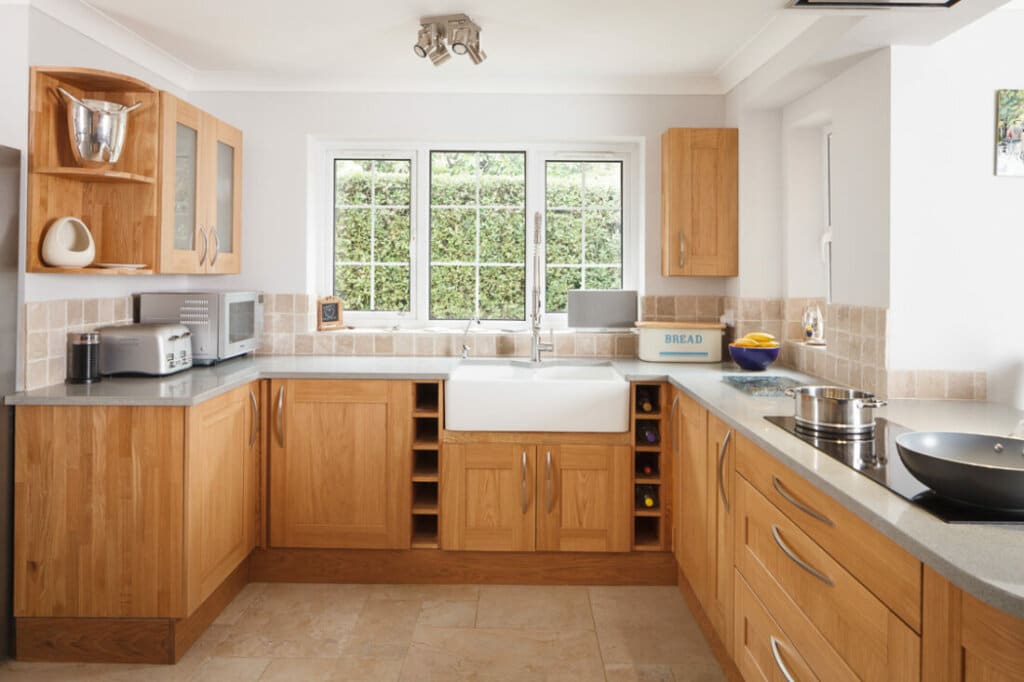 White oak shaker cabinets are popular for those seeking stylish and timeless cabinetry. These cabinets offer clean lines, durable construction, and natural beauty that can enhance any space. When it comes to selecting shaker cabinets, it's essential to consider factors such as size, color, finish, hardware, and layout, all of which can influence the look and functionality of your kitchen or bathroom.
If you want to add unique details, you can opt for customization options such as glass insets or ornamental knobs. Moreover, homeowners can even choose from different grains for the wood used in their cabinets to fit their design preferences.
Farmhouse White Oak Kitchen Cabinets
Farmhouse-style designs resonate with many homeowners due to their simplicity and practicality. These cabinets perfectly blend classic and casual elements, often featuring muted colors with unpretentious finishes that exude warmth.
White oak's unique texture and grain pattern make it an excellent choice for kitchen cabinets. The golden-brown hue of these cabinets adds warmth to any kitchen, while the wood's durability ensures they last for years. Each cabinet is crafted precisely, delivering a seamless look that pairs well with various kitchen styles.
White Washed Oak Cabinets
White-washed colored cabinets possess a distinct and stylish look that blends with any home decor. These kitchen cabinets have a light-colored finish, creating an impression of a clean and airy space.
Many prefer white-washed oak cabinets due to their versatility. The texture of the natural wood grain enhances their aesthetic appeal, setting them apart from other materials.
Oak Cabinet White Countertop
Oak cabinets paired with white countertops provide any kitchen with a timeless and elegant look. The warmth of oak enhances the brightness and cleanliness of white, creating a beautiful contrast.
Incorporating natural elements like wood helps create balance in the kitchen. Oak provides durability and longevity, while white countertops offer a clean, minimalist look. Mixed with modern appliances, this pairing can give a contemporary feel without losing its classic charm.
To further enhance the beauty of oak cabinets with white countertops, consider adding metallic finishes like brass or chrome for hardware to create an even more luxurious finish