Office Layout Ideas – Office layout is one of most important factors that affects the employees performance under their desk. Before deciding your office layout, you must well aware about your office needs.
Indeed, it's nice to scroll down and then instantly recreate all images you found on Pinterest, but if you are lack of the resources, don't worry! The main key to remodel your office layout is to rearrange the existing stuff you already have, plus adding a few inexpensive stuff
Making new office layout is great to give better feel in the office, especially if you're planning to make it into a co working singapore space. One thing to remember, having new layout does not have to be time consuming or expensive. There are several simple tips and tricks that you can follow when you are moving to a new area or improving an existing one.
Read also: 30 Most Convenient Home Office Ideas
As discussed above, recreating office layout can enhance the productivity. Based on that notion, for example, if your company values team work, you could try to create a team cluster layout. You can split the desk cluster according to team role. Otherwise, if you think work in private is the best option for productivity, then private office room is the best option, especially for people who do classified work or who serve one-on-one client meetings. When figuring out the layout it's also worth thinking about other areas of the office that usually don't get enough attention, like the office bathroom. Take a look at some commercial restroom layouts to figure out what would work the best for you.
Read also: Deck Railing Ideas
Importance of Office Layout
When first you think of it, office layout ideas or design seems like a trivial thing. But later on, you will realize that everything that goes into the area and the activities that occurred becomes more and more complicated. Whether you're making a home office, arranging your work area cubicle or deciding the layout for the entire office, understanding that the suitable arrangement can affect how employees will help you to get the job done will be beneficial.
Read Also:
A great office layout arrangement has several advantages for the company. First, It can affect the employee productivity. Second, it can develop teamwork and collaboration. Third, it will promote office layout safety and comfort. Lastly, it will boost employee morale and inspiration.
Types of Office Layout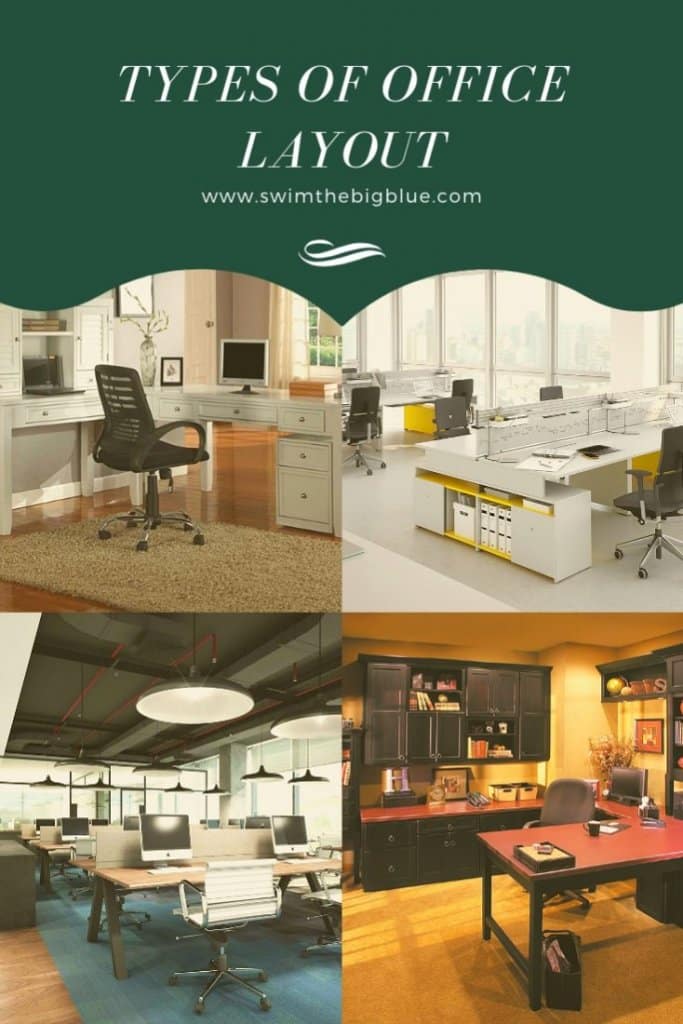 The first thing to do to gain advantage from office arrangement is selecting the right office layout type. The type ranged from open space office where mass people can sit in a large room to boost productivity, cubicle office space where the employees are given small space as comfort zone, private office space for confidential work, team cluster space to give sense of teamwork, and co working office space for freelance workers. Each type has advantage and disadvantage. Now let's elaborate them.
Read also: Bonus Room Ideas
1. Open Space Office
Although open space office layout seems outdated for some people, there are certain company that still use this kind of layout.
Read also: Master Bathroom Ideas
Advantages: some modern agencies reported that Open space office can provide better communication, collaboration and speed of work. They also sees that leaders of agencies experience positive benefits and better productivity as a result of this arrangement.
Disanvantages: The employees may experience less productivity and satisfaction because of the lack of privacy; less space for breathing and stretching; different ways of working, creativity, and achievement are less shown and less recognized; can create more stress, because all eyes are on you.
2. Cubicle Office Space
Cubicle office space is another most popular office layout besides the open space one. While the open space offer no physical barrier for the employee, the cubicle provide more private spaces for the employees.
Advantages: It create a private space and sense of belonging. The employee will have a storage to store their documents, work files and other belongings.
It also give standardization in the office. Everyone has the similar working space. It can boost the spirit and creativity of employees.
Cubicles can reduce distractions level as one employee is hardly distracted by the others in different cubicle.
Disadvantages: It can hinder employee interaction. Besides giving privacy, the walls also have certain disadvantage: limit social interaction.
The space is often too small for the employees. It can discomfort and cause cramp.
3. Private Office Space
Private office is separated room or cabinet in the office. It is usually designated for the executives. Sometimes, it is provided for people who are doing confidential work such as doctor and lawyer.
Advantages : It gives personal atmosphere and total privacy. Due these conditions, the employee will have better concentration.
It also have healthy air circulation, there is no disease transmission.
Disadvantages : Private room is clearly uneconomical. It needs extra expense for the furniture, decoration, cleaning, and maintenance.
4. Team Cluster Office
Team cluster office design is an idea where people with similar role are teamed up in one office area. Indeed the purpose is to make the communication among similar roles employees can effectively linked.
Advantage: Increase the coordination among people in the same working roles.
Disadvantages: Not all companies need this kind of space layout. The layout will consume extra spaces to make cluster borders.
5. Coworking Office Space
Coworking office space is basically a shared workplace. The space can occupied by more than one company. Usually companies with small number of employees see coworking office is a great choice to reduce the cost. Coworking office style is mainly used by freelancers, start-ups members, and small companies.
Advantages: Coworking space can provide a casual office atmosphere so it reduce the stress.
It is also economical since the area can be shared together.
Disadvantages: it can be too crowded that might reduce the productivity. It also has low or no privacy as the space is literally open.
Private Office Layout Ideas
Downtown Private Office with residential view
As stated before, a private office room is designated room for confidential work or for the executives. In confidential work, clients sometimes are too shy to explain the problems or the matter is just too classified such as law or doctor suggestion.
Private room with fresh beach view
Large executive room office with cozy lightning and warm atmosphere
Private office chambers, effective for semi confidential clients
Minimalist executive room office
Small private office room with glass door
Home Office Ideas
Cozy home office with white layout theme
Nowadays, working from home is taking its momentum as the result of technology advancement. A lot of bloggers, youtubers, translators, graphic designers, etc need convenient desk to get their job done. Even for office workers, bringing their work to home is not uncommon. Therefore, a home office will be beneficial.
Minimalist Home Office for Casual Workers
Classic Home Office with Black and Brown Combination
Cool Home Office with Wooden Theme
Small home office with natural look
Casual home office for creative workers
Modern Executive Office
Luxury executive room layout with elegant wooden floor
An executive office is a designated room for the director, executives, and other high position persons in the office. The design will be designed according to owner taste.
Modern Executive Office with grayish look
Simple Executive Office with clear view to the outside
Minimalist Executive Office for Small Room
Modern Executive Office with Glass Walls
Simple Executive Room with Elegant Look
Spacious Executive Office Room with Natural Look
Small Office Layout Ideas
Small Home Office at the Corner Space
When we urgently need an office but we cannot provide enough space, then small room ideas are needed to answer the problem. Here are some ideas of small space office room for you to build.
Small Office Ideas with Double Computer Desk
Small Office Layout with Right Angle Desk
Best Office Layout for Productivity
Open Space Office Layout with Personal Desk
Office is made to boost the productivity. Here are some examples of the best office layout to answer that challenge.
Open Space Office Room with Team Cluster Layout
Small Office with Open Space design
Office Room Layout with Spacious Cubicles
Coworking Office Plan with Fresh Green Look
By having a lot of input, you can explore more ideas. Finding the suitable office layout is not all about the owner taste, but it must consider the employees and company needs.
Hopefully these Office Layout Ideas can give better insight before you decide your own office layout.