Home Gym Ideas – Routine workout is essential for many people to stay healthy. However, most people with tight schedules often find it hard to work out outside their work schedule. In another case, some people can't go to the fitness center because of the distance from their homes. Therefore, adding a home gym is not for decoration; building a home gym is the only solution for those people.
Before planning to build a home gym, you need to make sure that you really need it and will use it regularly. Without the commitment to using it regularly, building a home gym is not necessary. Signing up for a gym membership is a better choice for temporary use.
There are many benefits of having a home gym. It can save you money from the gym subscription. Another advantage is that it can save time, especially if the gym is far from home. In this article, we are going to guide you in making your ideal home gym, starting from explaining the cost needed up to the style alternatives.
DIY HOME GYM
Talking about building home gym decor ideas and renovation yourself, you need to plan it thoughtfully. There are mainly three things to consider before building a home gym: the cost, the size, and the gym equipment. We will try to explain those three things to make them easier to digest.
Read Also: Media Room Ideas
1. How much does it cost to build a home gym?
You don't need to break the bank to build a home gym. The cost of building a home gym mainly depends on the gear. In most cases, it ranges from $1000 to $3000 if the homeowner sticks to the essentials. For starters, you need to have a cozy atmosphere in the gym since it directly affects your overall use. Think about the size, layout, lighting, flooring, and air conditioning systems before shopping for gym equipment. And for the equipment, consider choosing the items that provide multiple uses.
2. What Is A Good Size Room For A Home Gym?
Many homes have dumbbells and treadmills nowadays, but a home gym is not just an accumulation of workout equipment. Since it's easier to work out at home than in a fitness center, it motivates people to work out routinely. However, making a motivating home gym requires careful planning to optimize the limited space into a sound, safe, and inviting workout space.
The size, quantity, and gym equipment layout depend on space limitations. For example, to use correctly, free weights require 20 to 50 square feet of space, treadmills need around 30 square feet, and the multi-station gym requires 50 to 200 square feet. Therefore, if the gym equipment takes up 200 square feet, you need to have at least 250 square feet of space to make the home gym feel light and airy. Additionally, adding a ventilation system and air conditioning can help make the room more spacious.
3. Home Gym Equipment Ideas
Choosing the essential equipment for basic workouts to optimize the home gym would be best. Basic workouts usually consist of strength and flexibility training. Also, the ones that offer multiple uses are the best options.
Speaking about home gym equipment ideas for multiple use, dumbbells, kettlebells, and barbells are easily the first things that come to mind. They accommodate different types of exercises and have different levels of weights. So, you need to get 3 to 5 sets in a range of weights to support your workout progress over time.
If you like bodyweight exercises and cardio, consider adding pull-up bars, rings, and jump rope. They will increase the variety of workouts in a big way. In addition to the gym equipment, do not forget to add a bench to rest and a stereo system to make the exercise more fun and less exhausting.
HOME GYM IDEAS FOR SMALL SPACE
Utilizing a small space is trickier than the large one. The room can become too crowded and narrow if the layout is not planned carefully. Here are our top small home gym ideas to consider.
Home Gym Design Ideas: Compact Garage
Limited space doesn't mean limited possibility. Despite its size, this design manages to utilize the room to feel airy. Adding only essential equipment to the gym is the first thing to notice. Moreover, this design uses a glass door and scattered lighting and leaves some empty spaces to make the room more spacious.
Attic Home Gym
Some homeowners don't have room to use a gym. But, many of them have an attic at their home. Instead of using the attic to store rarely used items, they can use it as a more beneficial space. This design uses white color and sufficient lighting to make the room fresh. More importantly, the stationary bikes at the side keep health in check when the weather is not suitable for cycling.
Grey Home Gym
This small home gym adopts a minimalist style. The grey wall on one side matches well with the gym equipment. Moreover, the beige floor adds a classic vibe to the room. Lastly, the punching bag and the treadmill will help you train your arms and legs.
Modern Small Gym
This home gym design is the perfect definition of small yet contemporary. The cityscape artwork on the wall creates a modern vibe. The design uses mirrors to make the room appear larger, and it's also useful to look at the result of the workout over time.
GARAGE HOME GYM IDEAS
Apart from its everyday use as a place for a car, a garage can also be a sweet spot to build a home gym. Here are our top picks for garage home gyms.
Home Gym Decor Ideas: Modern Gym
This design uses warm-colored lighting to create a classy look. It blends well with the modern-style cabinets and gym equipment. Putting the gym activity in the open garage like this gives some benefits. One of them is that people can do a workout while enjoying the fresh air from outside.
Home Gym Decorating Ideas: Contemporary Style
This outside home gym achieves a contemporary look by combining medium-tone woods, white walls, and abstract painting. One small detail to notice, it uses small carpets under the equipment to protect the flooring. The gym equipment might only be useful for arms and legs training, but the open area outside can be used for flexibility exercises.
Multipurpose Garage
Some homeowners need to utilize some rooms in their homes for multiple uses. This design proves that it's possible to use the home gym for other purposes, such as putting sports equipment, fishing rods, and even placing a small kitchen. You can also use minimal home gym equipment to keep the area tidy and spacious. Furthermore, you can add foldable dividers to separate the equipment from other objects to make the area look nicer. However, this home gym design layout might get messy quickly if the homeowner doesn't take good care of it.
Home Gym Layout Ideas: Industrial Look
Revealing the garage's structural framing and using various materials on the wall could create an industrial building vibe. You might need a mid-sized garage that can hold much gym equipment to pull off this design. Although there are wide varieties of gym equipment, this design still managed to provide an empty space for other activities.
BASEMENT HOME GYM IDEAS
Many homeowners rarely use their basements. Turning their basement into a gym can be an excellent solution to make the room more functional. We've already selected some recommendations for that.
Home Gym Ideas: Cheap and Simple
This basement design might be one of the simplest ones. To make it cleanly simple, it only uses white and a little bit of grey color for the walls. It might not have much gym equipment, but it's enough to break a sweat, especially if you want to separate the basement for other purposes.
Spacious Basement Room
Some homeowners might have an enormous basement. Although it's already larger than many basements out there, this design adds wall-sized mirrors to make it seem even more spacious. It successfully replicates the fitness center vibe in a home gym.
Contemporary Basement
The beige walls, glass panels, and diffused lighting make this home gym look luxurious. Not to mention, it also adds some ambient light to enhance the glamorous vibe. Those elements will enhance the home gym experience.
Classic Basement Room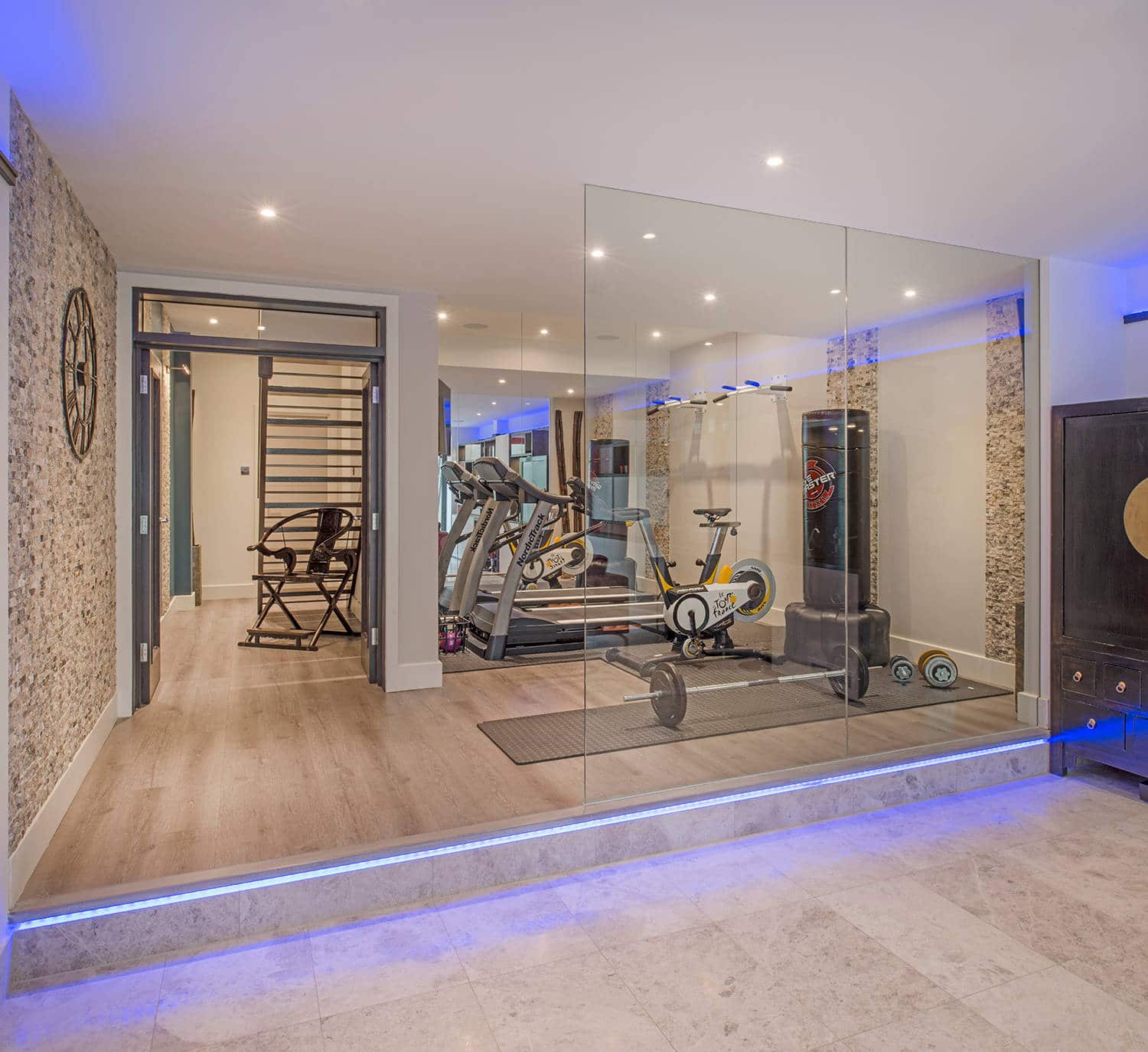 This basement gym design separates the home gym into two areas, a workout area, and a sports area. At the workout area, people can do all types of exercise. On the other hand, to experience another fun activity, people can go to the sports area where they can enjoy playing virtual golf.
LARGE HOME GYM IDEAS
More space means more design flexibility. If you have plenty of space for a home gym, consider adding extra decorations to make it more comfortable and unique. Here are some ideas to inspire you.
Natural Theme Gym
This home gym creates a natural vibe by combining wood materials, stone walls, and varieties of small plants in the room. Moreover, the extra-large windows and the small pool at the center enhance the look. Those elements can make the workout sessions less exhausting and more refreshing.
Mediterranean Look Gym
This design offers uniqueness and seclusion from the main building. This home gym has so much attention to detail, from the Spanish barrel tile roof to the gorgeous hexagonal floor tiles. Moreover, the size allows it to be a family gym. However, this gym might not be comfortable at night since it only uses a chandelier to light up the room.
Large Modern Gym
This modern-looking design uses soft grey colors for the gym interiors. The similar grey colors of the room and the gym equipment build a contemporary look. Moreover, the large mirror installed on the wall helps the light to illuminate the room evenly.
Countryside Gym
Not all countryside homes need to adopt the conventional style. This home gym design proves that a home gym in the countryside can also look elegant and luxurious. Furthermore, the contrasting black details in the white interior mix well with the natural backdrop. It keeps the room fresh and the workout sessions more fun.
MAN CAVE HOME GYM
If the home gym is used only by men, adopting the man cave style is not a bad idea. It adds character and makes the room more masculine. Here are a few choices that might inspire you.
Modern man cave gym
This home gym and man cave combination perfectly achieved a modern and masculine look. The black-colored gym equipment adds a nice contrast to the white interior. Moreover, adding a comfortable sofa and a TV in the gym offers a space to rest and lounge comfortably.
Football-themed home gym
For American football fans, this might be an excellent pick. The mural art on the wall makes this home gym feel like a football locker room. Lastly, the warm-colored brick walls and the dim lighting makes the workout sessions cozier.
Eclectic man cave home gym
This home gym design offers some design flexibility. The various materials used for the interiors and shades of grey mix current design and modern elements. The black-colored gym equipment matches well with the other items in the room. Additionally, two comfy Adirondack chairs were placed in front of the TV to adjust the viewing angle.
Home Gym Paint Ideas
Plenty of psychological research explains how paint colors can affect people's moods. Many people today implement the technique of using specific colors on certain things to build the desired atmosphere. For the same reason, you can also apply certain gym paint color choices to influence your workout sessions in the best way possible.
If you want to get motivated and energized while working out, choose vibrant colors such as red, orange, and yellow. Those colors motivate you and boost your spirit even with the heaviest workout available. More importantly, it tends to erase your gloominess and makes you feel great at the end of the workout.
On the other hand, if you want to create a calming atmosphere, cooler colors such as green, blue, and purple might be a better choice. According to experts, these colors, especially blue and purple, can help people calm their nerves, relax, and be more focused. These colors will boost your mood in different ways. They help you get the most out of your workout sessions by rejuvenating your mind, body, and soul.
Other Gym Ideas
CONCLUSION
In conclusion, working out at home can be much more exciting than in a fitness center. However, it needs careful planning and the right design. Although we have already provided plenty of design alternatives, you may need to explore more ideas to fit your ideal design and satisfy your preferences – Home Gym Ideas.