Media room ideas – Having a designated private cinema, game room, or media room in your home was once seen as a luxury which only possessed by the rich. It was an extravagance that only successful traders, movie stars, and industry titans with unlimited resources can afford.
While such luxury is beyond the dreams, desires, and checkbooks of ordinary people, technological advancement has brought opportunities for broader circles of middle-class Americans to experience a private video and entertainment room.
Read also: 30 ways to Create Media room with Unused Bonus room
Media Room Decor Ideas
When we ask people what a media room is, many will think about a multipurpose space equipped with a big flat-screen television, surround sound system, and convenient seating. There we can invite our friends to watch our favorite game or watch movies together for quality family time. It's where the party is hosted when guests visit.
Read also: Office Layout Ideas
Actually, a media room can be more than just about movies. It may also refer to a home theater room, television room, game room, and other designated bonus room for entertainment.
When designing such a room, be sure to get something for your carpet and hard floors as well to complete the entire look and feel of the room.
Why We Build a Home Media Room?
A. The Pros
1. Content Flexibility
Unlike a theater, a home media room gives the user flexibility to choose what to enjoy and when to enjoy it. It includes the free ability to pause certain content for toilet breaks or wind back if they missed something. The users can also select their desired content ranging from movies, TV shows, cartoons, sports matches, and documentaries
Read also: DIY Patio Ideas
2. Environment
By owning the room, you can have full control over the temperature, sound levels, room style, and seating management designed to meet your taste of comfort. There will be no more worry about other people's noise or the lights from their smartphones.
3. Audience
Owning a private media room lets the owners invite people they desire. Whether it is in a movie time, video game competition, or enjoying a TV show.
Read also: Deck Railing Ideas
4. Amenities
Media room facilities can be chosen according to the owner's taste and budget. You can choose between LED TVs or projectors, various kinds of surround sound, lots of comfy seating, lights, and so on. The size of the space also determines the room's decoration. Here we provide the media room ideas to help you choose the most suitable design.
B. The Cons
1. Intended Use
Before deciding to have a designated media room, you must consider whether you will use it frequently. Many people do not have a lot of time to enjoy a couple of hours watching TV and playing games. They choose to have a multipurpose room rather than a media room that only serves a single purpose. It ensures the family can do a lot of activities. It will be used more frequently than a single room with a sole purpose.
2. Available Space
One thing is for sure, you will need to have a special room to serve as a media room. A small house often does not have spare space to do this. But here is the tip: a 10 x 16 feet room, with space for two rows of seats, is enough to accommodate friends and family. You can also use your bonus room, such as the attic and garage, to create a media room.
Read Also: Master Bathroom Ideas
3. Cost
Adding another new room is significantly more expensive than converting the bonus room (basement or attic) or living room into a media room. Components prices are also more expensive in larger spaces due to the facilities such as the soundproofing, the lighting, the screens, the sound systems, and additional stuff that will be upgraded to meet the room requirements. Before starting the project, calculate the number of maximum guests that can present at a single time to avoid extravagance.
4. Effect on Home Resale Value
It's difficult to determine how much your house value will decrease when adding a media room. Most real estate professionals agree that houses with a luxury media room are more likely to sell first compared to ordinary houses. While some professionals claim that the house price will be decreased if the media room is bigger than any other room in the house. People think the media room is not essential, so it doesn't have to take up a lot of space. It will decrease the number of bedrooms and living rooms, which are more essential.
Small Media Room Ideas
If you don't have a big room for a big screen, you still have a lot of choices to design your media room. Sectional seating is a perfect way to arrange your room because it will accommodate several people while keeping it comfortable. During movie time, everyone can still cuddle one another under their blankets.
Some tips for small room media seating:
Traditional sofa and love seat set will do for an apartment or small house.
Bean bags are a good option if you have kids, especially when your sofa or loveseat is too small to accommodate the kids.
Carpet and Large pillows can be placed on the floor for people who like to lie on the floor while enjoying movie time.
Sectional chairs or a sofa is a good option.
2-chair recliners are also good options as well
A simple media room with two chairs and two tables is convenient enough to spend our time with the TV. This kind of room won't take up a lot of space due to its minimalist furniture.
Having a good media room doesn't have to own a large room. Use some creativity and bravery to explore the ideas.
Doesn't have space to make your dream media room? Make use of your unused attic and transform the dream into reality.
Media Room Ideas on a Budget
As we stated earlier, building a media room with a home theater is not only for luxury anymore. You can make one with a minimum budget. You only need to follow simple tricks to get the job done.
The common mistake in building a media room is in choosing the furniture and facilities. You need to know which things should be skipped and which things should be considered. For example, you can use an LED screen rather than an LCD projector in the long run. Choosing the right sound system is also a tricky part. You can save a few bucks by considering the most suitable sound system, not deceived by certain brands or the size of the speaker.
One key to reducing the cost when building a media room is keeping it as simple as possible. A single chair, carpet, and medium screen have done the job.
A cheap media room building usually comes with a small room. As it is small, we must make it comfortable enough since we will spend a lot of time enjoying movies or TV shows. A cozy sofa and TV are enough to make an affordable media room for the family.
Another inexpensive media room idea with a sofa and flat-screen TV. If you think it lacks surround sound, then you can add it. Using a used sound system can be an option if you want to minimize spending.
Using a bonus room as a media room has always been a good idea since it significantly reduces the cost of building a new room. The small room can be transformed into a home theater complete with a projector, nice seating, and surround sound system.
Media Room Seating Ideas
The first element you need to consider when you are planning your own media room is deciding on the seating scheme. The seating is very important as you will spend a couple of hours on it. Indeed you must make it as comfortable as possible. The term "comfortable" is based on the seating experience on two sides: the comfy of the seating which pleases your body and the arrangement which pleases your view. There are a lot of options for comfortable and stylish media seating in the market such as sofas, sectional chairs, love seats, and so on. The well-planned seating arrangement is also important. Isn't it a good idea to have a comfortable room while also keeping it in style?
Media room with cuddle seats serves great convenience. You can invite your friend or your lover to enjoy Netflix together and have fun.
A media room with five seats is common to find. Here is the generic formula for the seating arrangement.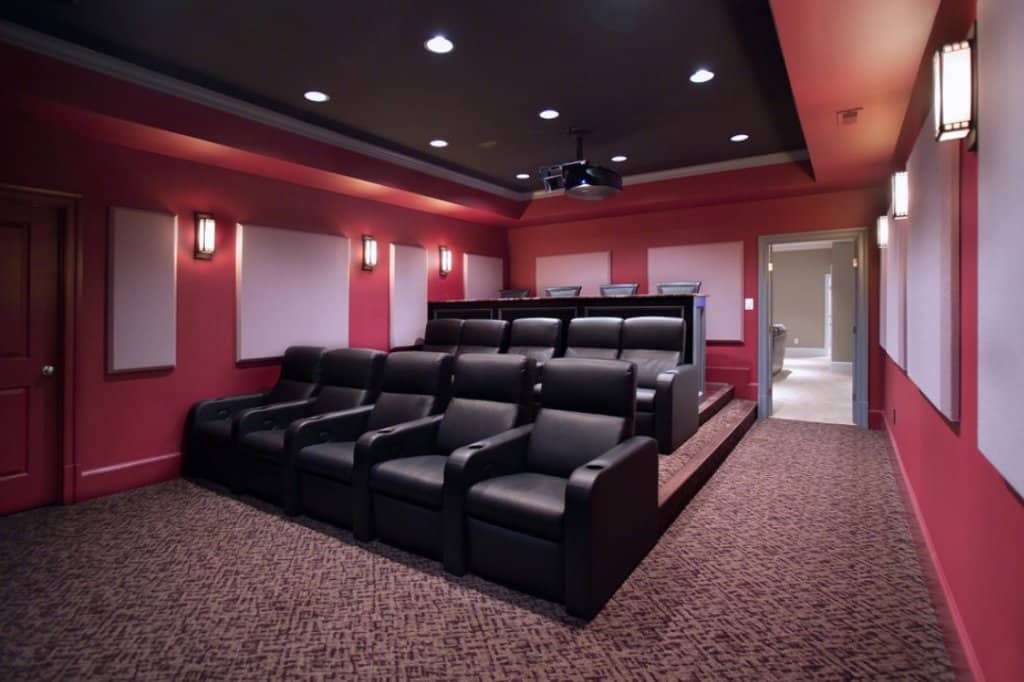 If you have a lot of friends or family members, you must consider arranging more seats for them. Here is a 10+4-seat media room seating arrangement.
The media room doesn't have to be only focused on the movie, and you can also make it family-friendly if the seating arrangement is well managed. Here is an example, a sofa with rectangular placement for family time.
A recliner loveseat is a great way to add extra seating to your home entertainment without sacrificing comfort. This type of furniture is perfect for small spaces because it doesn't take up a lot of room. Recliner loveseats are also very versatile, as they can be used as a regular sofa or bed.
Media Room Furniture Ideas
When you finish the seating scheme, you move on to the room's accessories. The choices range from extreme to subtle. For example, if you want to have a cinema experience, you can use accessories such as curtains or a popcorn machine. You can also mix the decor with your favorite theme. 
In addition, there are also accessories that can add more viewing experience, making it more powerful and enjoyable for guests. Some offer cinema-like seating, 3D glasses, or vibrating seating (which can vibrate during the crash scene to add a better experience).
Wall-mounted with a four-sided storage cabinet is perfect for a small media room. It can save a lot of space.
You can add a small bar to your media room if you have extra money. It is nice to drink and talk after the movie.
Having a small stage in the media room can add more fun to the house. You can host a game after the movie or make an acoustic performance.
The Paint Ideas
Selecting the correct color paint for a media room is almost as important as selecting a flat finish. Some colors, such as green and yellow, can twist the colors on your tv or screen. With these colors on the wall, Flesh tones may appear slightly yellowish or bluish, while natural elements, like the leaves and earth, may also look slightly unnatural. The solution is to select a neutral color for your media room wall. Go with a darker neutral shade because lighter colors tend are reflect light. Mid-tone to a dark shade of gray or brown is the best option for the viewing experience in your media room. If you are looking for an authentic theater experience, basic black wall works as well.
A Black painted wall is great when you are watching movies.
A neutral color such as brown will not reflect the light, so it is good for a media room.
A white-painted room can be an alternative if you are tired of dark and bored with brown color.
The Lighting Ideas
The lighting and other parts are important to set the mood so that guests can relish an immersive and enjoyable feel. In order to achieve an in-theater experience, ambient lighting is one of the best choices for a media room. Traditional lighting types, hanging or suspended lighting, may reflect on the screen, transmit shadows on the screen or hinder projected images. Thus, in general, you look to keep your lighting integrated well with the room's walls as possible.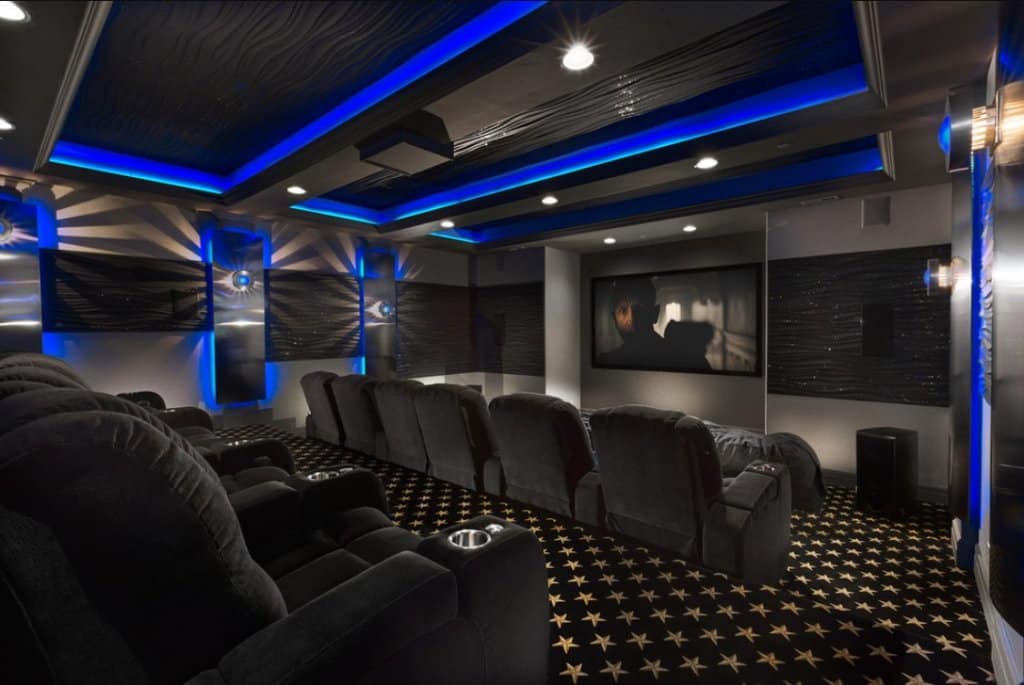 Media Room Carpet Ideas
Carpet is essential for a media room as it is the best in sound absorption. Besides that, it provides a warm, comforting and beautiful basis for your space. Of course, you want something that immerses up all surrounding sound, rather than rebound it back to you. Nothing else can substitute carpet in terms of sound absorption, not even close.
Media Room Door Ideas
It might be not fundamental, but choosing the door for your media room can add more convenience. Whether it is Sliding doors, French Doors, or Swing doors, it serves the purpose of a media room, to make it free from outside distractions. Let's see which style works best for your space.
Basement Media Room Ideas
Rather than making a new space for a media room, a bonus room such as a basement and attic can be transformed into an entertainment room. It can save you huge sums of money since it only needs improvements.
Bonus rooms, such as the attic and basement, are often left unused. It is usually filled with old and unwanted stuff in the house, from worn-out furniture or clothes to childhood memorabilia. Why not maximize the space for entertainment? The basement and attic are perfect spaces that could be turned into warm and welcoming spaces for your family and friends to spend time.
You could make a game room or play area for the kids or a home theater room for family and guests. The ideas are unlimited and need to be explored more.
Media Game Room Design Ideas
Having a dedicated space for playing video games is a dream for all gamers, although the equipment may be varied depending on the game type.
For example, if you are a console player, you need to have an LED monitor and adequate technical support, such as an internet connection, while pinball machines or billiard tables require more space.
This might be the most progressive, clever, and innovative media game room idea that will guide you to find a suitable room design. Remember that each idea will need a different budget depending on the size, accessories, and the rig.
Deciding what media room ideas to apply is the next thing to do. In making the decision, you must consider who will use it frequently, what activity to do, and most importantly, ask yourself whether you need a designated media room – Media Room Ideas.
Other Ideas