Master Bathroom Ideas – A master bathroom is place where you retreat from the crowd and outside disturbance. It is a small escape from the boring real world activity.
Having a master bathroom in your house is a luxury which can bring the feel of a five-star hotel. Imagine enjoy the bathing time with city view visible from the floor to ceiling windows. Even though it cannot be fully attainable depending on your home size and location, there are still lots of ways to upgrade your bathroom to achieve the dreams.
Read also: DIY Patio Ideas
Your master bathroom is yours personal space, it is where only few others can impede on your personal place. It means you can experiment all the way you want here. Whether you are dreaming a luxurious space with beautiful tiles and stones, having a romantic night with shower and spa, or in a warm bathing session with fireplace next to you, master bathroom is all you want for such a enjoyment.
Read also: Deck Railing Ideas
Master Bathroom Design
What is master bathroom actually? The definition could be varying. According to wikipedia, master bathroom must be at least containing a shower and a bathtub that is adjoining to the largest bedroom.
When it comes to the designs, there are truly lots number of design options available. For example, there are styles you can choose, such as Victorian, Mediteranian, modern, rustic, and many others. For the parts, you can add claw-foot or whirlpool tubs as the bathroom centerpiece. Other elegant feature can include high-end floor tiles, separated/private toilet area, classic wood cabinets, or even cozy fireplace.
In choosing a master bathroom design, the first thing to do is considering how, and by whom the bathroom will be used frequently. A master bathroom commonly used by two persons. According to this, you need to design the bathroom to be used for two people at the same time. Based on the size, a master bathroom can be divided into three design types, namely small design, medium design, and large design.
Victorian Master Bathroom Design
Rustic Master Bathroom Design
Bathroom Design for Home
Time flies so fast and the people habit too. There was a time where average family house had just one small bathroom, which was designated purely as personal space hygiene. Nowadays, besides for the personal hygiene, many modern houses include master bathroom which allows the owner to enjoy a sense of privacy, intimacy, and escape.
Read Also: Bonus Room Ideas
Small Master Bathroom Ideas
Small master bathrooms are getting popular for single-family homes. It will be easily found either in home with single bathroom or in home where second master bathroom exists.
In remodeling a small bathroom, you must ensure that the stuff you buy will fit the design you want. You must well measure everything before you bring it home, and if possible, make a measurement scale to you ensure everything fits.
Storage cabinets can be a major issue in small bathroom designs. As an alternative, you can use hall closet for the storage, or another way, you can simply create built-in shelving in an unused space.
Medium Master Bathroom
It is the most common master bathroom choice around. Medium sized bathroom square footage will adequately accommodate almost everything you need.
Read also: Media Room Ideas
The bonus space you have will allow you to work with more stuff such as an elongated tub or a double sink. Moreover, you can add more storage and cupboards to store your belongings in the bathroom.
Large Master Bathroom Plans
Large master bathroom means a lot of space to store almost anything you desired to your bathroom.
Large walk-in closet is a popular choice to add inside the bathroom. This will allow you to store everything you want in the bathroom. You can also spread out your equipment and add windows to let the light in.
With the spacious bathroom, you can have twin sinks, or you can just separate it and place one next to a vanity mirror for morning activities.
Master Bathroom Layout
Master bathroom actually doesn't have a fixed rules regarding how big the size it should be, but many suggests that the bigger is better and more luxurious. These extravagances are made to be used by more than one person a time. The space commonly use double walk-in showers, double sinks, separated toilet areas, and even a bidet, dressing space, and sitting area. Some also add entertainment such as televisions and sound systems.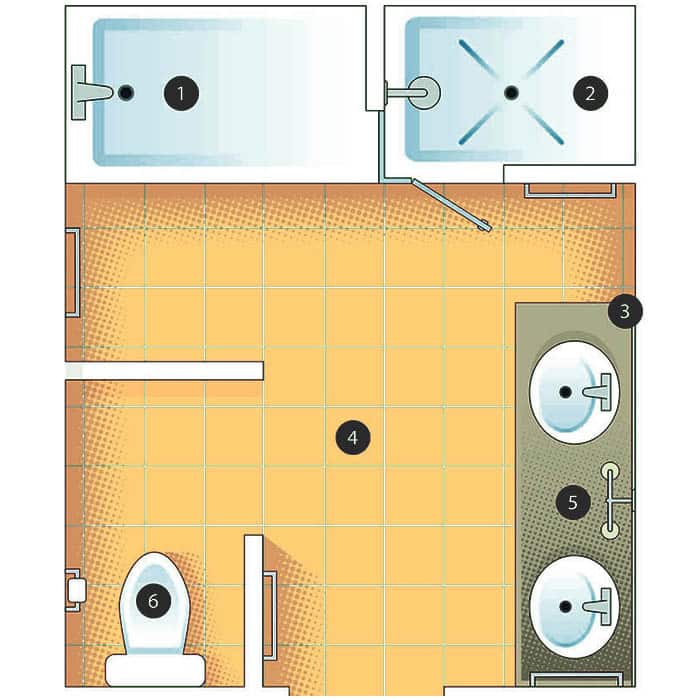 A typical master bathroom may include compartments as follows:
1 – Bath-tub.
2 – Shower space.
3 – A wall mirror.
4 – The flooring designs.
5 – Two sinks.
6 – The toilet sits in a separate compartment.
Master Bathroom Dimensions
If you want to have all the luxuries, your master bathroom should be at least the size of a small bedroom, about 34 square feet or larger.
But when you don't have the space for a separate bath and shower, consider installing a shower over the bathtub so that both functions take place in the same spot. In this scenario, you would, of course, need space to fit a bathtub, so a square or a wide rectangular room, rather than a very narrow one, is best. You'll need one wall to be at least 5 feet long, which is the length of a standard-size tub. If space is particularly tight or if the room is narrow (3 feet or less) or has a sloping roof, consider dispensing with a bathtub and having just a shower instead. A shower won't take up as much room as a tub, and you can squeeze one into the most awkward of spots
Ideas for Master Bathroom Remodel
Renovating the bathroom is one of the most profitable investments we can do because it can upgrade the resale value.
Are you considering remodeling your bathroom yet confusing to start the project? Then you just need to sit and read some tips before you get down to the work as follows:
1. Know what you want.
It is the starting point of the project. At this stage, you must really clear about what you like and dislike regarding your space, which will inform a comprehensive floor plan that integrates all of the desired changes. From there, you can consider the aesthetics, color palette or the types of fittings you'd like to have.
2. Do your research.
To have clear information, you need to gather as many information as possible. Pinterest, Instagram, and facebook pages can be informative sources of inspiration.
3. Estimate your budget.
We agree that the more budget you have the better space you can have. But, knowing your budget limit is important in the process. You may need to save extra cost as in the process there will be some additions here and there.
4. Hire the right people.
It is clear that working with the right people is the key point. They will ensure the project runs well and beautifully done.
Master Bath Remodel Cost
The price of a simple bathroom remodeling project is about $10,000, although this includes insignificant, partial, and small bathroom remodeling costs. A more comprehensive bathroom remodel can reach $15,000 or more; while large master bath remodel can cost at least $50,000.
You might be able to find cheap shower door, for example, for as little as $300, while more pricey luxury shower doors cost more than $3,000. A bathtub can cost you from $400 to $8.000 to buy and install. Shower surrounds can also be varying. A master bath with a separate shower and tub can easily costs from $3,500-$12,000.
It is really important to know exactly where you money went, not only the total estimation from the contractors. This will help you to choose the best team or contractors to work with.
Modern Master Bathroom Ideas
We can distinguish a modern bathroom design simply by its look. The design dominated by the straight, clean lines, uncluttered counter spaces and geometric shapes. Modern design is quite different from the antique and ornate traditional interior design theme—in fact, it is quite the opposite.
But what really makes a modern bathroom design theme? The answer is the organization. A well-organized bathroom space with minimal décor and smart storage solutions defines the modern bathroom design.

Geometry also has an important role in modern bathroom designs. Unique countertop shapes, textures and colors is the options available when for modern bathroom look. The geometry shapes can be stacked on top of one another, laid out in a row, or spread out randomly. They can also be used as accent pieces to the design besides concentric parts of the overall theme.
For the color scheme, it often matches those of industrial areas—concrete grey, stainless steel silver, bronze brass, copper wiring, rusting steel, green glass—all of these examples help to make a good modern bathroom design. Moreover, all of these materials are suitable with many modern bathroom faucets, fixtures and features.
Modern Master Bathroom
Rustic-Modern Master Bathroom
Modern Master Bathroom Floor Plans
Here are some master bathroom floor plans to inspire your own bathroom layout. Indeed it's not that your layout will end up exactly like any of these but they will get you thinking about the possibilities.
Master Bathroom Ideas on a Budget
So you are planning to redesign your bathroom but spending $10,000 on a simple deluxe spa retreat is not what you can afford to spend. Here's the good news: You don't have to spend a lot of fortune to transform your bathroom into a relaxing, cool space. There are still lots of ways to renovate and redesign your bathroom on a budget.
You must determine how much you can afford to spend on your remodel to determine the extent of the changes you can make. For example, If your budget is on the low end ($1,000 or less), you can stick to cosmetic changes, such as new fixtures or a new sink, and new paint. If you have more money to spend, you can do larger changes, such as adding tile, bigger shower, or a window. Again, it all depends on your allowance.
Master Bathroom Shower Ideas
Here are some inspiring, beautiful shower ideas that show the amazing possibilities of the space.
Bathroom Wall Fireplace
When you think of a fireplace, you think of a sharing space with friends and family. But the is one fireplace that is intended for private use: the bathroom fireplace.
Be inspired by our examples of bathroom fireplaces. There are some options you can choose, from wood burning fireplaces, wood-burning stoves, gas fireplaces. It can be installed in rustic homes, traditional homes, or modern homes. Some of the fireplaces are positioned on one wall of the bathroom; others are in the corner of the bathroom; some others on a dividing wall between sections of the bathroom or between the bathroom and an adjoining bedroom; and a few are even positioned in the midst of the floor.
Romantic Master Bathroom Designs
What makes a romantic bathroom different to the regular bathroom? The romantic bathroom indeed have exclusivity of use because such kind is usually installed adjacent or inside the master bedroom. The atmosphere must be comforting, sensual and extremely intimate, a kind of special pampering oasis. With this on mind, you can consider the concept of romance-inspired with the furniture and fixtures together with the light, color and scent.
Ideas for Bathroom Cabinets
Bathroom cabinets are important in the design of a bathroom and more importantly, they are responsible for important storage for bathroom supplies.
When it talks about cabinet designs, sizes, setups, and materials options are practically countless. Find out how you can make best use of storage and take advantage of every inch of space with these lovely bathroom cabinet ideas.