Photo Collage Ideas – Pictures speaks a great language for your most beautiful and memorable moments of your life. With smartphones in hands, it's not difficult to capture every special memory in seconds.
Photo collage is one of the best ways to show more, in one frame. It is inexpensive beautiful decoration to your house. Furthermore, it can be also a memorable gift you can present to your family, friends, or loved one. It can bring back sweet memoirs every time you walk and see the wall of memories you have at home.
If you are wanting to create your own photo collages, checkout for some of the best photo collage makers at Pixpa.
Find out the best photo collage ideas and style here as we have round up the most fun, cool, and trendy collages in the internet.
Read also: Time Capsule Ideas
Wall Picture Frames
Either you are on the frame side or frame-less side, wall picture still have its own aesthetic if you put it at the right spot with the perfect combination.
Keep reading to see our list for framed and frame-less wall picture, and even inexpensive picture collages ideas that worth as a home decoration as well as a gift.
Read also: Photo Booth Ideas
1. Simple Wall Photo Collage
If you are looking for perfect photo collage ideas for wall then it is the answer! Rectangular wall decoration is a perfect stuff to put at every part of the house. It can be placed in the living room, bedroom, stair wall, and other places. Moreover, it is also very easy to make. The grid can be customized according to your taste and number of photos available.
In fact, you can even make a single collage frame with different photos. Many free photo editing programs help you create one.
2. Heart-Shaped Photo Collage
When you are trying to express your feeling to your lover yet limited on the budget then photo collage is the key for it. It is great way to make mementos of the togetherness.
3. Clock-Shaped Photo Collage
Wall photo decoration can also be mixed with custom clock. The clock is the symbol of how the time flies. Put your best moment and see how it bring you back to the best time of your life.
4. Ocean Style Photo Collage
The blue color of sea can refresh your mind and soul. It is a beautiful color scheme decoration for your family room or living room.
Classic Style Collage
When you are tired of the modern and sophisticated look, you can try this classic and vintage vibe wall decoration. It is best to use neutral color for the wall painting such as grey and white then place monochrome photos on it.
6. Hanged Photo in Frame
If you have unused old frame, you can use it to place your photos. You only need to use strings or thread then clip the photo on the string. A very easy and cheap way decoration right?
7. Yin and Yang Photo Frame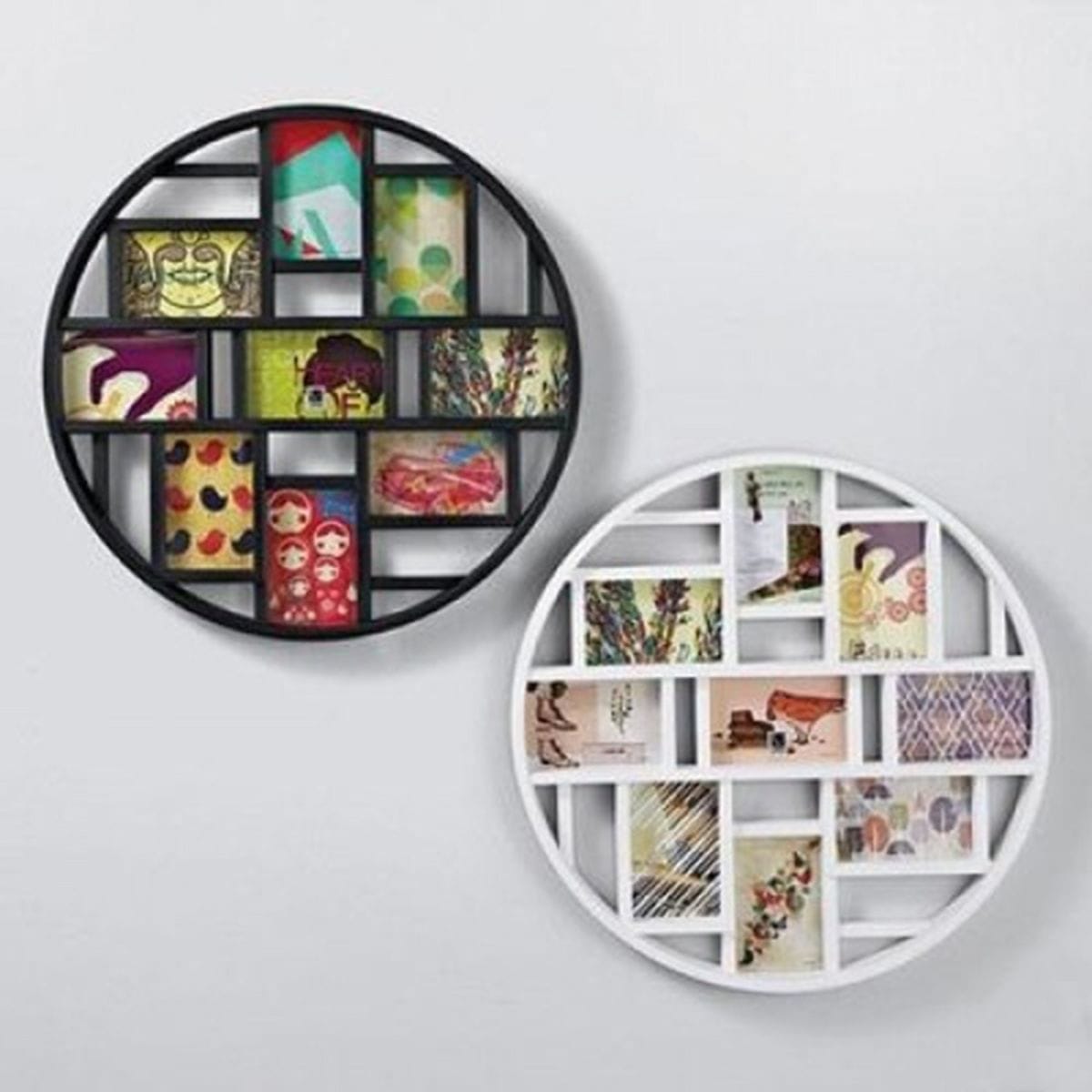 Inspired by Yin and Yang philosophy, here is custom photo collage to represent the dualism in life. The idea is simple, you can put contrast moment for each circle. For example you put sad moments in the black circle and happy moments the other circle.
8. Family Tree Photo Collage
If you are bored with the wall photo placement in your house, then the tree wall photo is another simple decoration idea that you can do easily. You can use paint to draw the tree or simply use stickers.
9. Stair Wall Photo Collection
Stairs wall is often left blank or just painted with plain color. You can make use of it by attach your pictures on it. You can use collage with vinyl stickers our use photo frame.
10. Artistic Collage Ideas
Making an artistic photo collage might need more effort, but the most important thing is the ideas. You can make random pictures into beautiful artistic decoration with the ideas.
11. Instagram Style Collage
Nowadays, Instagram has become part of our daily life. We put our best moment pictures there. Here is the good news: you can make non-virtual instagram-style photo storage. It is easy to make with customize-able size. It can be a perfect gift for people we love. Moreover, it can be great photo collage ideas for gifts.
12. Recycled Wheel Collage
Photo collage also work well with unused things or trash such is unused wheel. You only need a little effort and some doses of inspiration. Once you got those two, the possibilities for the photo collage ideas are unlimited.
13. American Flag Collage
As an American citizen, it is very common to show the nationalism even on a simple things. Indeed if you are from other country you can design your own photo collage ideas with your own country flag.
14. Custom Photo Hangar
Photo Collage Ideas no need to be expensive! We can use our daily wall hangar things for pictures collage. You only need to have some wall hangars then clip some pictures on it. Then got a rustic style photo collage.
15. Round Shaped DIY Collage
This photo collage ides without frames can be made by everyone with little or even without sewing knowledge. Instead of putting your pictures in the album, why don't just attach it somewhere so everyone can see it easily?
Do you have any other ideas regarding the presented topic or other things? Let us know in the comments below!
Conclusion
Having photo collage in your rooms is a great way to decor as well as making your best memories stay alive. We believe wall photo collage ideas above are excellent for all your needs.