Photo Collage Ideas – Pictures speak a great language for the most beautiful and memorable moments of your life. With smartphones, capturing every special memory in seconds is not difficult.
A Photo collage is one of the best ways to show more in one frame. It is an inexpensive, beautiful decoration for your house. Furthermore, it can also be a memorable gift you can present to your family, friends, or loved ones. It can bring back sweet memories every time you walk and see the wall of memories you have at home.
If you want to create your own photo collages, check out some of the best photo collage makers at Pixpa.
Find out the best photo collage ideas and styles here, as we have rounded up the most fun, cool, and trendy collages online.
Read also: Time Capsule Ideas
How do You Make a Good Photo Collage?
Creating a photo collage can be a fun and creative way to display your favorite memories or showcase your artistic side. Here are some tips for making a good photo collage:
Choose a theme
Choosing a theme is the first and most important step when making a photo collage. This will help you decide what photos to include and how to arrange them in the final product. Depending on your theme, you may add captions or other decorative elements to complete the look and tie it together.
Choose your Images
Consider the layout of the photos and how they'll fit into the space. Additionally, consider how color, texture, and size can balance the overall design. You can create a stunning collage that captures your memories in its best light by carefully selecting and placing your images.
Choose a Layout
There are many different types of layouts available, so make sure you take the time to pick one that works best for your photos. Additionally, try playing around with different shapes and sizes of the photos to create more visual interest in your collage.
Consider Color and Contrast
Using bright colors can draw attention to your collage while creating contrast between colors will add visual interest. Additionally, by varying the saturation levels of each image, you can create more depth and dimension in your collage.
Play with Shapes and Sizes.
Creating a good photo collage can be as simple or intricate as possible. One of the most important aspects is playing with shapes and sizes. Varying the shape and size of the photos will create an interesting impact that adds visual interest to your collage. Experimenting with shapes such as circles, rectangles, hearts, and stars will create a unique look. Furthermore, varying the sizes of photos, from large images to small thumbnails, will help give your collage depth and texture.
Add Text
Adding text is an easy way to add interest and provide context for your creation. Consider adding captions or meaningful quotes directly onto the collage itself, or try adding titles and subtitles to your images. You can even use text to create a "frame" around the photos by writing words along the edges of the design. The possibilities are endless! Experiment with different fonts, sizes, and text colors to create a unique collage that stands out.
Print and Display
When creating a photo collage, printing your photos out for the best effect is important. This allows you to see how the composition will look in real life. Additionally, make sure that you attractively display your photo collage by using different frames or hanging them on the wall. Finally, use photos that capture different memories and moments for a special collage.
Wall Picture Frames
Whether you are on the frame side or frame-less side, wall pictures still have their own aesthetic if you put them in the right spot with the perfect combination.
Keep reading to see our list of framed and frame-less wall pictures and even inexpensive picture collage ideas that are worth it as a home decoration as well as a gift.
Read also: Photo Booth Ideas
1. Simple Photo Collage Ideas
It is the answer if you are looking for perfect photo collage ideas for walls! Rectangular wall decoration is perfect for every part of the house. It can be placed in the living room, bedroom, stair wall, and other places. Moreover, it is also very easy to make. The grid can be customized according to your taste and the number of photos available.
You can even make a single collage frame with different photos. Many free photo editing programs help you create one.
2. Creative Collage Ideas
When you are trying to express your feeling to your lover yet are limited on budget, photo collage is the key. It is a great way to make mementos of togetherness.
3. Wall Collage Ideas
Wall photo decoration can also be mixed with custom clocks. The clock is the symbol of how time flies. Put your best moment and see how it brings you back to the best time of your life.
4. Ocean Style Photo Collage
The blue color of the sea can refresh your mind and soul. It is a beautiful color scheme decoration for your family room or living room.
Classic Style Collage
When you are tired of the modern and sophisticated look, you can try this classic and vintage vibe wall decoration. It is best to use a neutral color for the wall painting, such as grey and white, then place monochrome photos on it.
6. Hanged Photo in Frame
If you have an unused old frame, you can use it to place your photos. You only need to use strings or thread, then clip the photo on the string. A very easy and cheap way of decoration, right?
7. Yin and Yang Photo Frame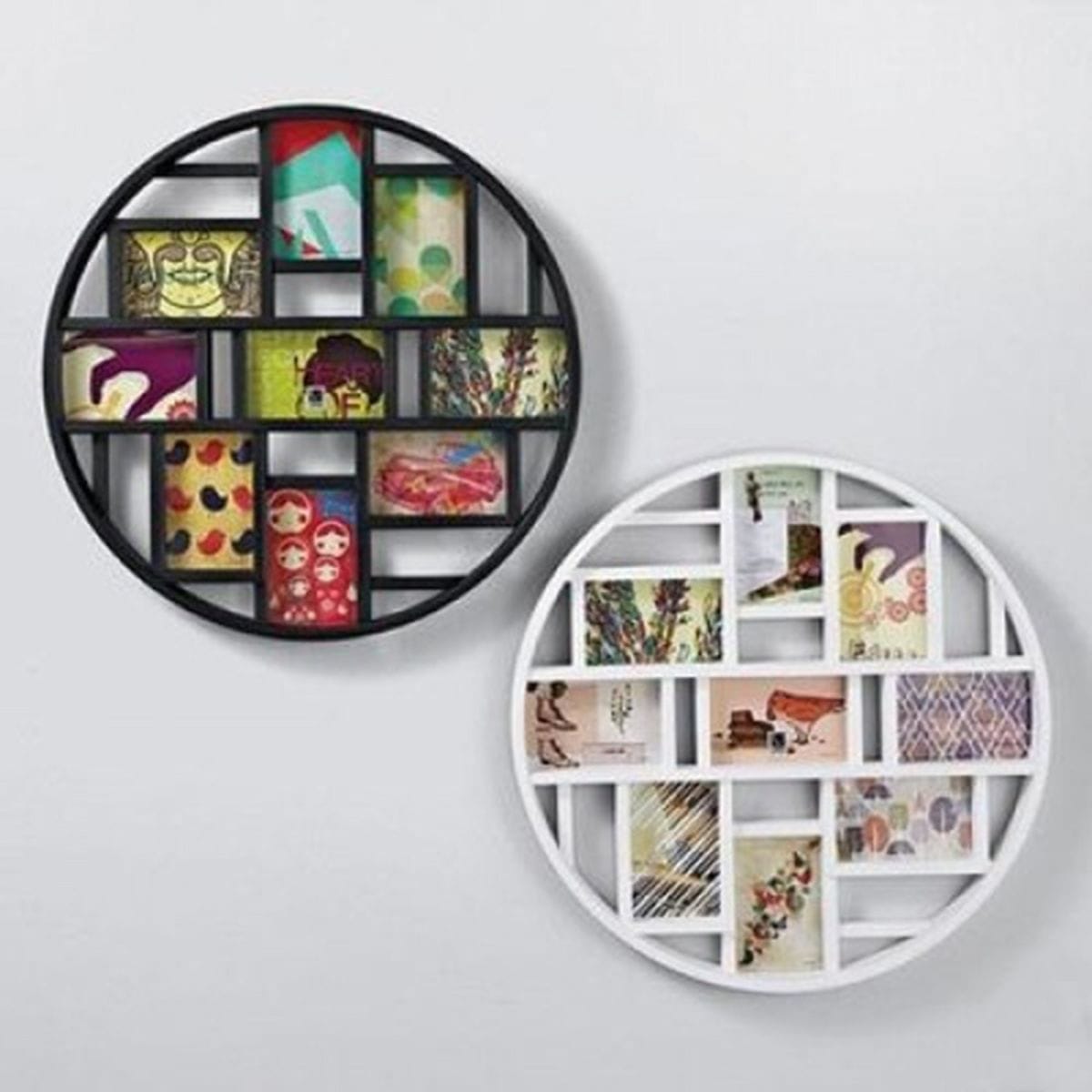 Inspired by Yin and Yang philosophy, here is a custom photo collage to represent the dualism in life. The idea is simple; you can put a contrast moments for each circle. For example, you put sad moments in the black circle and happy moments in the other circle.
8. Family Tree Photo Collage
If you are bored with the wall photo placement in your house, then the tree wall photo is another simple decoration idea you can easily do. You can use paint to draw the tree or simply use stickers.
9. Stair Wall Photo Collection
The stairs' wall is often left blank or painted plain. You can make use of it by attaching your pictures to it. You can use collages with vinyl stickers or use photo frames.
10. Artistic Collage Ideas
Making an artistic photo collage might need more effort, but the most important thing is the ideas. You can make random pictures into beautiful artistic decorations with ideas.
11. Handmade Photo Collage Ideas for Gifts
Nowadays, Instagram has become part of our daily life. We put our best moment pictures there. Here is the good news: you can make non-virtual Instagram-style photo storage. It is easy to make with a customizable size. It can be a perfect gift for people we love. Moreover, it can be a great photo collage idea for gifts.
12. Unique Collage Ideas
Photo collages also work well with unused things or trash, such is an unused wheel. You only need a little effort and some doses of inspiration. Once you get those two, the possibilities for photo collage ideas are unlimited.
13. American Flag Collage
As an American citizen, it is very common to show nationalism, even on simple things. Indeed if you are from another country, you can design your photo collage ideas with your country's flag.
14. Unique Creative Photo Collage Designs
Photo Collage Ideas do not need to be expensive! We can use our daily wall hangar things for picture collages. You only need to have some wall hangars and then clip some pictures. Then got a rustic-style photo collage.
15. DIY Wall Photo Collage Ideas Without Frames
Everyone can make this photo collage idea without frames with little or even without sewing knowledge. Instead of putting your pictures in the album, why don't you attach them somewhere so everyone can see them easily?
Do you have any other ideas regarding the presented topic or other things? Let us know in the comments below!
Conclusion
A photo collage in your room is a great way to decorate and make your best memories stay alive. We believe the wall photo collage ideas above are excellent for all your needs.